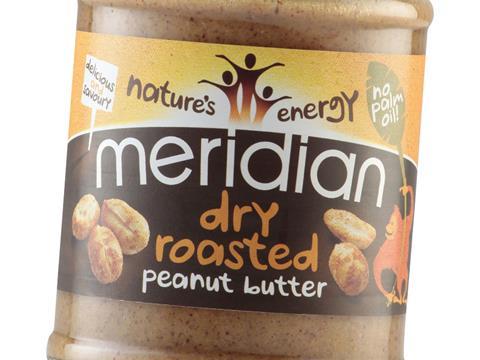 Northern Irish consumer goods company SHS Group has acquired a majority stake in nut butter brand Meridian to add to its growing portfolio of brands, as tipped by The Grocer last month.
The value of the deal has not been disclosed but is understood to be in the region of £50m, according to City sources with knowledge of the transaction.
SHS emerged victorious in a highly competitive auction for Meridian parent group 3V Natural Food, which also owned premium soft drinks brand Rocks.
3V is headquartered in Hampshire and has manufacturing sites in Devon and Wales.
The Meridian brand has benefited from soaring demand in the nut butter category as consumers seek out high protein snacks, with peanut butter in particular increasingly marketed on health grounds.
Rocks was established in 1981, producing soft drinks free from artificial sweeteners, flavours or additives, and has grown to become one of the leading organic squash brands in the UK.
3V hired corporate advisors at Spayne Lindsay last year – as revealed by The Grocer last year – to find a buyer for the group as demand for nut butter continued to explode.
A handful of PE houses lodged bids of more than £40m for the business, but SHS was able to offer a significantly higher price, with a double-digit EBITDA multiple, according to industry insiders.
Irish-listed Glanbia, the world's largest sports nutrition business, was also involved in the late stages of the process, City sources added.
SHS Group CEO Elaine Birchall said: "The acquisition of Meridian and Rocks strengthens our owned-brand portfolio and manufacturing capability as we continue to invest in bringing high quality brands to a wide range of channels and geographies.
"We are delighted to have acquired this dynamic business and look forward to working with the management team in driving growth in established and new markets."
SHS – Northern Ireland's largest family owned food and household goods group – owns dozens of brands, including Bottlegreen, Shloer, WKD, and Merrydown cider and Farmlea rice pudding, and is also a market leader in own-label herbs and spices.
The group also distributes well-known brands such as Jordans, Ryvita, Nivea, Finish and Mars Drinks in selected outlets and channels.
Sales jumped over 23% to £467.7m in 2016 thanks to innovation, brand investment and business wins, which it wants to support through complementary acquisitions.
3V commercial director Russell Smart added: "The team at 3V have worked incredibly hard to bring innovative and relevant product development to the market in response to changes in consumer demand over the last 12 years.
"The SHS Group, with its depth of expertise in fmcg brands, will help support our growth strategy and market reach in the UK and beyond."
Meridian, which accounts for most of 3V's sales, has grown rapidly in the past few years, with group revenues up 30% to £21.6m in the year to 30 September 2016, slowing from a 76% jump in the previous 12 months. Sales value at the nut butter brand soared 52.5% to £12.3m in 2017 [Nielsen/The Grocer Top Products Survey].
Contracts for the transaction have been exchanged, with completion of the transaction subject to clearance by the Irish Competition and Consumer Protection Commission.