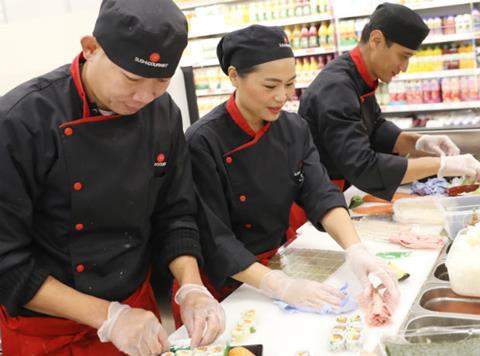 Hana Group, which primarily trades in the UK under the Sushi Gourmet brand, has been sold to global PE giant Permira for an undisclosed sum.
The global fresh sushi retailer, which trades via kiosks in supermarkets, has been acquired after four years under the ownership of fellow PE firm TA Associates.
Sushi Gourmet is partnered with Sainsbury's in the UK and operates in more than 50 locations.
Hana operates across 900 points of sale in grocery retailers across its 12 markets, which also include Spain, Italy and Portugal.
The business employs more than 4,000 staff globally and has grown rapidly over the past seven years, including through its acquisition of Peace Dining in the US in June 2016.
"The management team is very pleased to welcome the Permira funds as a new investor. This signals a new stage in Hana's growth," commented Hana Group CEO Yann Coleou.
"I am confident that Permira's involvement will be beneficial for our clients, customers and our team."
This month, Hana Group launched a new Mexican food concession, branded El Luchador, in Sainsbury's Balham, South London, store and has worked with them on food market kiosks for Wok Street and Little India Kitchen at its Selly Oak, Birmingham store.
Jacques Attal said: "TA Associates have been strong partners through the investment period.
"They have supported us strategically, which has enabled the company to become a global leader, and also embedded a culture of innovation which lays a strong foundation for our partnership with Permira."
Tara Alhadeff, principal in Permira's global consumer team, said: "Global demand for sushi is growing, driven by consumers' demand for healthy and convenient meals. At the same time, retailers are looking to introduce more theatre and experience into their stores.
"With its in-store chefs preparing fresh sushi, Hana addresses both of these trends. We believe that Hana's relentless focus on innovation, customer service and consumer experience, will continue to fuel growth and increasingly strategic collaboration with retail partners."
The transaction is expected to complete in the second quarter of 2019.
"We are very pleased to have been able to help Hana Group in its international development," added Patrick Sader, MD at the exiting TA Associates.