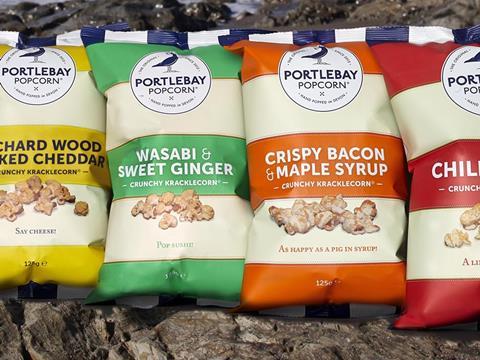 Northern Irish crisps maker Tayto picked up premium popcorn brand Portlebay for just £35,000 in a pre-pack deal, according to a report into the administration.

The Grocer revealed in February Tayto had put together a rescue deal for a 75.1% stake, along with Portlebay founders Jonty White and Neil Adams, who acquired 24.9%.

Portlebay had assets worth more than £300k, including book debts, the popcorn-making facility in Devon and stock, but liabilities totalled £660k, the report by administrators Lameys showed.

HSBC, which was owed £100k, has been repaid in full as a secured creditor from the collection of book debts, but there was unlikely to be money available for the £142,000 owed to trade creditors or £250,000 invested by shareholders and family of directors, the report added.

Portlebay GM Neil Adams said there had been much progress at the brand since the acquisition. "Tayto has invested several hundred thousand pounds into the company and we are already seeing the benefits of that. It is proving to be the right move for Portlebay."

Tayto CEO Paul Allen said: "Portlebay Popcorn is a great brand and a truly excellent product. Even at this early stage, we are seeing extremely positive steps towards growth, which is exactly as we expected."

"The brand has a loyal following and is well respected by both retailers and customers and that provides a perfect platform from which to build."

Despite the popularity of the brand, which had grown rapidly up to the end of 2015, with nationwide listings in Tesco, Boots and WH Smith, Portlebay had always traded at a loss and was supported financially by its shareholders.

A rights issue raised £175,000 in August 2016 to shore up finances, Lameys said in its report. However, after several national customers, including Tesco, cut listings, shareholders decided they could no longer prop up the business.

A search for outside investors led to Portlebay engaging recovery specialist Lameys in January, with a pre-pack deal put together by Tayto to save the business shortly after.

Portlebay was founded by former Burts Chips directors Jonty White, Neil Adams and Steve Wardlaw in 2012.