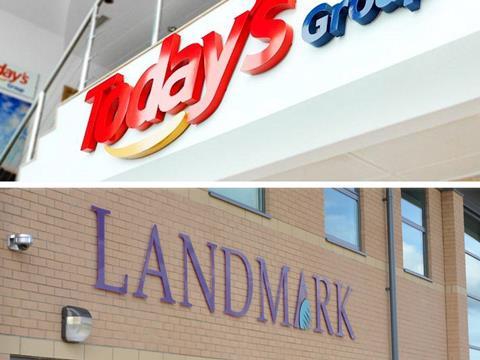 My enemy's enemy is my friend, so the ancient proverb goes. And it feels apt when considering the merger plans of buying groups Today's and Landmark this week.
Once fierce rivals, these two will now be bound together in the hopes that it's the best way to survive – and hopefully thrive – in a post-Tesco-Booker wholesale sector.
This merger can be traced directly back to Tesco's shock announcement that it was buying Booker for £3.5bn on 27 January last year.
Today's Group MD Darren Goldney was clear on this as he outlined the thinking behind the deal: "We believe that this consolidation is narrowing the options for suppliers and potentially threatening the future of independent businesses as multiple chains expand into the wholesale channel."
"This merger acts to ensure the sustainable and future success of our members, many of whom have a multi-generation legacy of service to independent businesses, be they convenience stores, catering outlets or many of the other businesses we serve."
Goldney is as well placed as any to understand the seismic changes in the wholesale sector for which Tesco-Booker has proved the catalyst.
He joined Today's from P&H, with his appointment announced two months before the delivered wholesaler collapsed into administration. While by no means the only factor in P&H's demise, the threat of losing its key Tesco contract to its arch rival Booker was material in giving its financial backers the jitters and scaring off any potential rescue bids.
As well as the P&H failure, the sector has seen the collapse of Conviviality, The Co-op buying Nisa and taking over the supply of Costcutter, Morrisons becoming the wholesaler of choice for McColl's and Sandpiper, Blakemore exiting cash & carry and more besides.
So in light of all this, Today's hooking up with Landmark is a no-brainer – if perhaps the new name Unitas Wholesale is a little odd.
The deal will create a new group combining the £5.7bn annual sales generated by the 142 Today's Group members with the £3.5bn of Landmark's 39 members. This gives it buying power based on £9.2bn of sales – which is not to be sniffed at. Booker on its own has sales of £5.4bn, but factoring in the Tesco buying power takes it to £55bn.
For me, though, the reason for combining is not about growing by flexing greater power over suppliers, but more about helping them stand their ground. Like the Sainsbury's-Asda merger, the two parties will share the vast majority of suppliers, so rather than expecting to drive through sweeping price cuts from suppliers it is likely to be more about price harmonisation.
The difference between the Today's-Landmark deal and the proposed mega-merger between the supermarket giants is that in many ways they are only as strong as their members – and fortunately for them there are some excellent operators in both groups. Dhamecha, JW Filshill and United Wholesale Scotland in Today's and Parfetts, East End Foods and Time Wholesale Services are all shining stars – proving that wholesalers can continue to grow profitability, compete and win against the big guys.
With operators like these working even closer together in the new group, Unitas stands more than just a fighting chance.