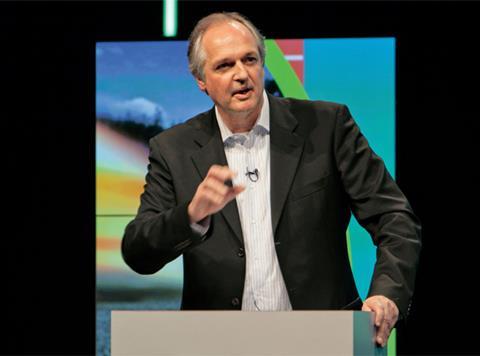 Top story
Unilever (ULVR) has announced the results of its strategic review this morning, confirming its intention to sell its spreads division as well as combined food and drink into one business, simplify its structure, launch a share buyback programme and increase dividends.
Unilever launched the review after seeing off a £115bn bid from US food group Kraft Heinz but coming under pressure from shareholders to step-up investor returns following the failed takeover.
CEO Paul Polman said this morning the review "concluded once more that our strategy for long-term value creation through growth and compounding returns on investment is the right one for Unilever and for our shareholders."
However, he added: "It also highlighted the opportunity to go faster and further… The faster pace of change that we are seeing in our markets and competitive set requires us to continue to set the bar higher."
Polman said the group will "accelerate the active management of our portfolio through bolt-on acquisitions and disposals". This includes launching a process to "either sell or demerge spreads", which has "responded well" to being split into a separate baking, cooking and spreads unit in 2015 but the underlying category "remains challenged".
Unilever will also combine foods and refreshment into a single unit to create a "leaner and more focussed business that will continue to benefit from our global scale and footprint". Polman said will help the group unlock sustainable value faster and target an overall underlying operating margin (excluding restructuring) of 20% by 2020.
As well as targeting margin improvement to 20%, Unilever will accelerate its Connected 4 Growth cost efficiency plan, with the aim of increasing expected cumulative savings by 2020 from €4bn to €6bn through "increased efficiency of our brand and marketing investment" and raising expected supply chain savings.
Additionally, Unilever said its dual-headed Dutch and UK legal structure "adds complexity" and will be reviewed to achieve greater simplification and strategic flexibility.
Unilever will also launch a share buy-back of €5 billion this year and pledged to raise its full-year dividend by 12%, reflecting "increased confidence in the outlook for profit growth and cash generation".
In terms of outlook, it maintained its expectation of underlying sales growth of 3-5% in "continued challenging market conditions". But it said it now expects the acceleration of Connected 4 Growth and Zero Based Budgeting programmes to deliver an underlying operating margin improvement of at least 80bps.
Chairman Marijn Dekkers added: "The review that the board has undertaken has been detailed and comprehensive. It has confirmed that our model of long-term shareholder value creation has been successful and remains as valid as ever. The actions we are now going to take are fully supported by the board."
Unilever shares opened down this morning but have risen back up to trade 0.5% higher than yesterday's closing price at 3,961.5p.
Morning update
Co-op Group has slumped to a loss before tax of £132m (after making a £23m profit last year) after writing down that value of its stake in Co-op Bank to zero and changes in the value of the company's bonds.
On an underlying basis profit before tax slipped from £81m to £59m, due to increased investment in its "rebuild" project to revamp its business.
However, operating profit was up 32% to £148m, driven by £20m profit on disposals, largely reflecting the sale of its crematoria, and lower restructuring costs
Group revenues were also up 3% to £9.5bn, with food, funeralcare and insurance all delivering strong levels of growth.
Food like-for-like sales rose 3.5%, driven by core convenience business, as food "continued to outperform the market".
Total sales food sales were up 1% at £7.1bn, with operating profit up 4% to £203m and underlying operating profit down 2% to £182m as it invested in refitting stores, increasing pay, improving infrastructure and strengthening its food range.
Steve Murrells, group chief executive of The Co-op, said: "We've made great progress in rebuilding our Co-op, with all our businesses delivering strong performances. While much remains to be done, our Rebuild plans have really started to deliver value for our customers, our members and their communities. That is exactly what the Co-op should be doing."
Elsewhere, Indonesian palm oil producer MP Evans (MPE) has announced its unaudited preliminary results for the year ended 31 December 2016 this morning.
The group reported a profit for the year including discontinued operations US$35.3m, up from US$25.4m last year.
Profit for the year on continuing operations more than doubled to US$16.4 million from US$7.8m.
Gross profit from its palm oil plantations was up from US$15.1m to US$24.4m, partly due to the steady recovery in the price of crude palm oil.
The commodity finished the year at US$795 per tonne, some 37% higher than the US$580 per tonne where it started the year.
Peter Hadsley-Chaplin, executive chairman of MP Evans, said: "2016 proved an excellent year and the group remains on track in its strategy of continued expansion in the Indonesian palm-oil sector, thereby providing the opportunity for enhanced earnings and further growth in the value of its assets.
"This is underpinned by the age profile of our current plantings, many of which are set to enter a phase of significant yield growth over the coming years. The board is excited at the prospect of increasing the group's hectarage by adding significant new areas to our existing plantations."
On the markets this morning, the FTSE 100 has slumped 0.9% to 7,269.2pts after weak trading overnight in the US and Asia on investor nervousness ahead of President Trump's talks with Chinese premier Xi that begin today.
Unilever is one of the market's few risers, with Sainsbury's (SBRY) down 1.7% to 251.9p, Coca-Cola HBC (CCH) down 1.3% to 2,054p, TATE & Lyle (TATE) down 1% to 762p.
Other fallers include Applegreen (APGN), down 2.8% to 395p, Hilton Food Group (HFG), down 2.5% to 655p and CARR's Group (CARR), down 2.1% to 129.3p.
The few risers include Real Good Food (RGD), up another 2.7% to 32.9p and Science in Sport (SIS), up 1.6% to 91.5p.
Yesterday in the City
The news that Real Good Food (RGD) is to buy a majority stake in Welsh snack bar manufacturer Brighter Foods for up to £9m sent its shares soaring yesterday, jumping 28% to 32p.
Yesterday was a good day for a number of grocery/fmcg players, thought the FTSE 100 edged up just 0.1% to 7,331.7pts after falling back towards the end of the day.
Majestic WINE (WINE) jumped 6.3% to 343.8p and there were also strong rises for Nichols Beverages (NCLS), up 3.3% to 1,958p, Cranswick (CWK), up 2.2% to 2,586p and SSP Group (SSPG), up 2% to 429.3p.
Also Dairy Crest (DCG) ended the day up 1.6% to 558.5p and Britvic was up 1.4% to 653p.
However, the supermarkets continued their tough week after market share data showed slow growth amid rising inflation, with Sainsbury's (SBRY) falling a further 0.4% to 256.3p, Tesco (TSCO) back down 0.2% to 184.3p and Marks & Spencer 1.1% down to 334.8p.