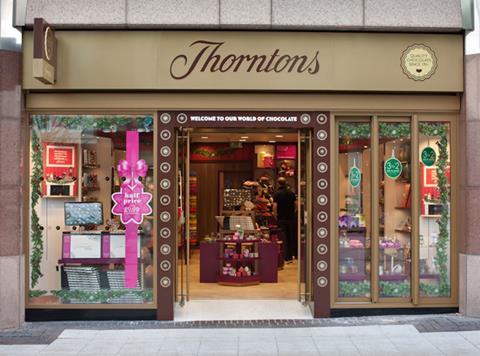 Ferrero is Kinder good at Surprises. And its proposed acquisition of Thorntons on Monday was no exception, catching the market, the media and the City alike with its 145p-a-share offer - a 67% premium on the three-month average closing price of 87.1p - and valuing the UK chain at £112m.

Shares in Thorntons leapt 43% on the offer. And with its attractive 20x P/E ratio offer price - which has already seen activist fund Crystal Amber, investment manager Hotchkis & Wiley and former chairman John von Spreckelsen sell up, along with a payday of about £2.5m for current chairman Paul Wilkinson and outgoing CEO Jonathan Hart - it's looking like a done deal.

But why does Ferrero want Thorntons? What are its plans for the UK chocolatier?

On the one hand, with revenues of €8.4bn in the year to 31 August 2014, the acquisition is a drop in the ocean for Ferrero. On the other hand, it's hardly a bolt-on acquisition. Ferrero has no experience as a retailer. And Thorntons, which has been struggling for years, is by most people's reckoning a somewhat tired and UK-centric brand - dubbed 'Motel Chocolat' this week by retail analyst Nick Bubb - in contrast with its more upmarket rival Hotel Chocolat.
"There is no point in taking a knife to a gun fight in fmcg"
Project Cinderella

The first clue as to Ferrero's intentions is the codename it gave to its pursuit of Thorntons. 'Project Cinderella' was two years in the making, CEO Giovanni Ferrero explained. "This transaction brings together two highly complementary businesses, but more importantly it unites two companies that share the same passion for growing brands, and a proud heritage, drive and culture built upon their family foundations," he explained. "We have long admired Thorntons and what they have achieved in the UK as demonstrated by their tremendous ­customer loyalty."

Outside this official statement the offer document provided few clues as to its plans, keeping its options open as it conducts a fuller "strategic review".

Akeel Sachak, global head of consumer business at Rothschild, which is advising Ferrero, confirms that the Italians were attracted by the equity of the Thorntons brand, which had more potential than was currently being realised.

"I'm amazed for a business [of this size] how much newspaper attention it has garnered," he says. "It proves Thorntons has a much bigger brand than the size of the business [suggests]. The brand has not been fantastically well managed over the past few years and it will come as a blessed relief for the business that it now has the prospect of a stable long-term owner with the willingness and the capacity to really invest in the company."

Angus Thirlwell, CEO of Hotel Chocolat, is not surprised that Thorntons is selling up and expects Ferrero to make Thorntons a stronger player. "Building brand distribution through grocery channels is what it's good at. Thorntons has also stated it wants to develop that side of the business. There's no doubt Ferrero has massive clout within the grocery distribution trade, so it'll give Thorntons some muscle."

According to Sachak, Ferrero has also been emboldened by its recent success in the UK - its best-ever results here, according to Ferrero, with sales up 26.1% to £233k [Nielsen MAT 16 May] in a confectionery category that is down 1.4%. Pick of the bunch has been the award-winning Kinder Kids, up 32%, but all of its confectionery brands are in strong growth: Ferrero up 26%, Boxed up 14.8% and Kinder Bueno up 14.2%. And in the spreads category, Nutella is no slouch either: sales are up 12.6% in a category up 1.6%.

Yet despite its size as one of the biggest forces in global confectionery, behind Mars, Mondelez and Nestlé, Ferrero has just 3.2% market share in the UK compared with Thorntons' 4.5% [Euromonitor].

Some industry experts believe the future for Thorntons lies overseas under Ferrero. Exports currently contribute just 3% of its £220m turnover, but combining the capacity and expertise of the Thorntons factory in Alfreton with its own global supply chain network is a no-brainer, says Will Hayllar, partner at consultancy OC&C. "The most significant part of the value equation for Ferrero would be to pump out the Thorntons brand on an international scale. The Ferrero route to market is very strong, particularly travel retail, and particularly in Europe, but they have a decent starting position in countries like Russia, China, the US and Canada too."

A veteran luxury chocolate manufacturing boss agrees that Ferrero won't just be chasing UK opportunities. A few years ago Thorntons lost a contract to supply M&S with its chocolates. But "Ferrero doesn't need to be bothered with own label," he says. Do Ferrero want to be worrying about 50,000 or 100,000 pieces? No. They want them to be in the millions."

And while Thorntons is far from a premium brand in the UK, sitting firmly in the middle of the road, international expansion could tap the ever-growing appetite for 'Made in the UK' brands abroad.

"it may be one of those cases where, if you take it outside the UK, you can talk about British heritage in much the same way brands like Yardley have done in Asia, while being pretty busted in their home market," Hayllar adds. "You may be able to present Thorntons as a premium brand better than you can in the UK."

Future of UK retail estate

But what of the UK shops? With a sprawling estate of more than 370, Thorntons was plunged into the red in 2011 and 2012 as the brand struggled to compete.

"They've wandered round in a circle and their shops are too silly and small," says the veteran luxury chocolate manufacturer. "They're little tiny outlets."

CEO Jonathan Hart's bold new plan was to hack the bloated retail portfolio to 180-200 outlets and sell more products direct to the supermarkets. It seemed to be paying off - for a while at least, with the fmcg arm growing 7.8% to make up half the business, revenues rose to £222.4m in 2014, and profits increased to £7.5m.

However, not everyone was convinced: in June 2012 - exactly two years ago - ex-chairman Peter Thornton warned that the Thorntons business model of discount selling in supermarkets was "crazy" and could lead to the collapse of his family's business or, "if it survived at all, being swallowed up by some huge multinational." And sure enough a profit warning just ahead of Christmas and a collapse in half-year sales on the fmcg side, as it lost orders from two unnamed grocers, led to Hart's departure in May.

Hayllar thinks the retail business is just a distraction and expects Ferrero to continue closing stores. "I would be surprised if they wanted to pump their own product via the Thorntons stores. They might want to franchise it but that will be baggage rather than what they want to do internationally," he adds.

However, Sachak insists "all parts of the business are important" to Ferrero's plan. "You are not going to chop off half the business. They have had a look at the business from the outside and once they gain full control they will get to go inside and look at the business properly, but they are pretty committed to building on the existing platform."

Retail analyst Chris Wickham, at Whitman Howard, notes that Thorntons is squarely in the growing gifting category. "Every single box of Ferrero Rocher that is bought is a gift. It is thanking a production person at the office for working hard on the report, or the nanny for doing a bit of overtime with the kids. It is a very conveniently priced present with an element of luxury, the same as Thorntons."

Ferrero needs to look for the diamonds in the Thorntons mix, suggests Nina Aggarwal, founding partner of brand innovation consultancy Fusion Learning, and believes its future could even lie in rekindling our love for old-fashioned children's sweet shops. "Chocolate used to be a kids' food, then Hotel Chocolat and Lindt helped it to grow up," she says. "Whilst all the retailers have kid-friendly products, none have a kid-focused brand as strong as Kinder from the Ferrero stable. This union could be a route to rekindle a truly kid-friendly chocolate shop on the high street."

One thing is for sure, adds Thirlwell. To make shops work takes retail magic. "Chocolate is one of the most emotionally charged products there is, so you need to go a long way beyond simply selling some brown stuff to munch. Chocolate makers have an opportunity - and a responsibility - to offer escapism and put a smile on people's faces.

"If you have a purely transactional relationship, where consumers simply pick up and pay for their chocolate, you'll fall way behind expectations."

Wickham is convinced the road Thorntons is on is the right one.

"It's been a struggle and they had right idea but you need more muscle," he says. "It is hard to go into the food multiples with a brand when you have the competitor set from hell with Mondelez, Nestlé and Mars. There is no point taking a knife to a gun fight, which is effectively what Thorntons has been doing.

"Fmcg is a higher-margin business so it makes sense to focus on it but it is very difficult in a listed environment - with a tough balance sheet and pension deficit. Ferrero are perfect to manage Thorntons out of the situation."