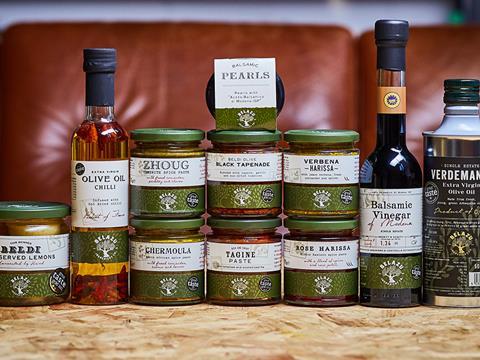 William Jackson Food Group has agreed a deal to buy the UK's top-selling balsamic vinegar and premium olive oil brand Belazu.
The brand, which also sells culinary pastes and preserved lemons and is listed by Waitrose, Sainsbury's, Tesco and Ocado, had sales of £31.4m in 2017 with an operating profit of £2.7m.
The transaction marks the Yorkshire-based group's second deal since its £210m sale of Aunt Bessie's in June 2018 following its acquisition of food service ingredients specialist Wellocks.
Similarly, Belazu has a strong presence in premium food service channels through its sale of Mediterranean olives, antipasti, grains, pastes and vinegars.
William Jackson CEO Norman Soutar said the sale of Aunt Bessie's has enabled management "to redefine the group for the next phase of its growth".
"We've been looking to enter the fast-growing premium segment of the foodservice channel and believe this acquisition, in addition to our purchase of Wellocks earlier in June, has really exciting potential for the future."
"The Group has been around for 167 years and has changed significantly during that time, and with each change our family shareholders have taken a long-term view to ensure a robust business remains in place for future generations."
Belazu MD Adam Wells added: "This is a really exciting development in our story; we're thrilled to be joining a food group with such heritage and a long-term view, and which shares our values.
"Crucially it's business as usual for our colleagues, customers and suppliers with the backing and experience of WJFG."
Belazu employs around 160 people at its manufacturing facility in Greenford, Middlesex.
Belazu, trading as The Fresh Olive Company Ltd, grew sales by 15.7% last year and has remained profitable in every financial year since its 2009 inception.