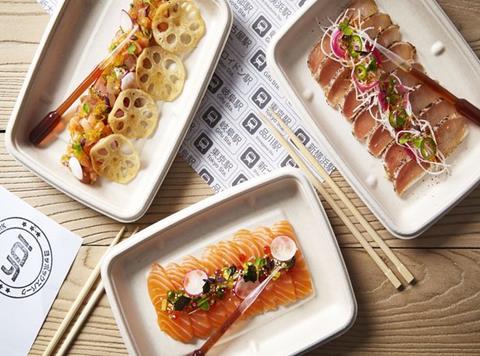 UK restaurant chain Yo! Sushi has acquired Canadian multi-platform sushi brand Bento Sushi in a deal worth CAN$100m (£59m).
Bento is North America's second largest sushi brand and the largest in Canada, trading from over 600 locations.
As well as its own-brand restaurants, Bento also supplies a further 1,700 partner sites and sells branded goods through third-party retailers and other food service locations.
Supplying more than 20 million sushi portions every year, the business has achieved compound annual sales growth of 16% in the last three years.
The deal was driven by Mayfair Equity Partners, which has been an investor in Yo! since a management buyout in 2015.
A statement announcing the deal said the combined business becomes one of the largest sushi companies outside Japan "providing an international, multi-brand, multi-channel offering, well placed to benefit from the continuing increase in consumer interest in healthy, provenance-rich foods".
It said the acquisition will create synergies and enable the continued growth of both businesses, particularly in the US market.
The acquisition of Bento comes after two "transformational" years for Yo! following Mayfair's investment which saw Robin Rowland return to the role of CEO and like-for-like sales growth of 5% over the past 18 months. Eight new sites opened in the UK this year, as well as the group's first sites in Manhattan, Paris and Sydney.
Rowland commented: "We've successfully reinvigorated the business over the last two years to ensure the foundations are in place for long term growth. This acquisition takes Yo! into the next stage of its development, and creates the first global multi-channel Japanese food purveyor. Bento's proposition and its management team's strong track record make it the ideal partner for Yo! as we look to further grow our brand."
Glenn Brown, CEO of Bento Sushi, added: "This partnership presents Bento with an incredible opportunity to grow its platform. YO! and Bento share a similar ethos and history, and we look forward to working with the YO! team and taking advantage of opportunities to develop both brands."