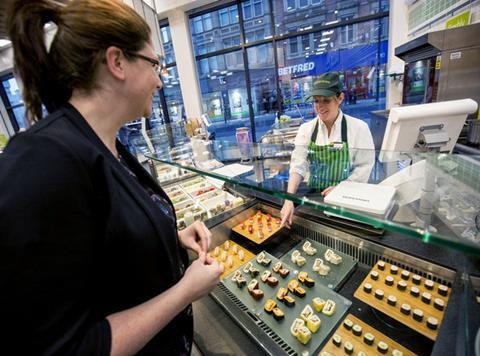 Morrisons has launched its first fresh sushi counter at its store in Piccadilly Gardens in Manchester city centre.

The counter has been created as part of its conversion from an M Local c-store back to a Morrisons, and is accompanied by an adjacent fresh wraps counter. The store was not part of the deal that saw 130 M Local stores sold to Mike Greene for £25m last year.

The sushi counter is described as a 'pick and mix' with 12 different sushi rolls for customers to chose from and pick their own selection.

Morrisons' move into fresh sushi counters follows on from Waitrose, which launched its first fresh sushi bar in Battersea, London, last November.

The success of the counter, and one in Bath that opened a few days later, led to a third opening at Waitrose in Godalming at the end of last month.

The Waitrose counters are run by sushi operator KellyDeli and branded Sushi Daily.