In a hastily convened briefing last Thursday (2 October), Morrisons finally unveiled details of its long-awaited loyalty card. And if the introduction of the card itself came as little surprise, the nature of the scheme was certainly not a me-too. Combining a loyalty card and price-matching for the first time, it's nevertheless most notable for being the first price-matching tool on the market to include Aldi and Lidl. So how does Match & More work? How does it work for Morrisons? And, crucially, will it win over consumers? We ran the slide rule over the new hybrid.
How does Match & More work? The pitch from Morrisons is that if your shopping costs less at Tesco, Asda, Sainsbury's - or Aldi or Lidl - it will refund the difference via points on your Match & More card. That covers the match element, while shoppers can also earn 'more' points by buying selected products in-store and filling up the car at one of its forecourts.
Do points win prizes? Shoppers receive 10 'Match' points for every 1p their shopping would have been cheaper at the cheapest of these rivals. They also get 10 points for every litre of fuel bought. Once a shopper reaches 5,000 points they instantly receive a £5 voucher off their next Morrisons shop.
The retailer claims this is an improvement on existing price-matching voucher schemes as they tend to print off vouchers for small amounts of money - which Morrisons claims either get lost or run out before shoppers have a chance to redeem them. It claims shoppers will be more inclined to look after a £5 voucher and will also have up to a year to redeem them.
How does it monitor its rivals' pricing? The scheme is managed for Morrisons by pricing specialists Profitero. Prices for Asda, Sainsbury's and Tesco are web-scraped on a daily basis, while Aldi and Lidl prices are based on bi-weekly visits to a handful of stores.
How accurate are the price matches? Morrisons chief executive Dalton Philips said he was keen to get as many matches with rivals as possible and therefore challenged his buyers to explain why a product couldn't be matched. The scheme compares branded goods, fresh produce and own label. In the case of the discounters, Morrisons is comparing its standard (as opposed to budget) own-label range with their products. It also pro-ratas differences in pack size or weight up to 20%.
Are there any restrictions in terms of spend or basket size? Shoppers must spend a minimum of £15, but there is no minimum number of items. When a Morrisons customer puts their shopping through the till, the Profitero system runs through the whole basket looking for matching items at each of the five rival retailers. Once it has checked all five retailers, irrespective of how many matches were found, points will be calculated against the cheapest rival. If, say, Morrisons was cheaper on comparable goods than Tesco, Sainsbury's and Lidl but Asda was 50p cheaper for its basket and Aldi was £1 cheaper - the shopper would receive 1,000 points based on the comparison with Aldi.
Surely the limited number of matches against the discounters will work against meaningful comparison? Not necessarily. During trials a significant proportion of the cheapest comparable baskets were at Aldi or Lidl stores. This is because the products they stock are the core of most customer baskets - baked beans, tins of soup, washing-up liquid and meat staples such as minced beef. So while they stock 15% of a major supermarket's range, it's a much higher proportion of the products in a typical customer's baskets.
Shoppers wanting more details of which products were actually used by Morrisons to make its comparison will have to phone a customer helpline.
What do Morrisons staff think? Staff have been feeling the pressure of the retailer's poor sales performance over the past few years and this is reflected in posts on their online staff forum. However, the Match & More launch has received a mixed reception. "Looks like a good idea," says one staffer.
"The fact we are price-matching the discounters is a definite winner. Once this goes live I expect we'll see an uplift in sales." Another adds: "It doesn't look too bad the way I see it."
However, another suggests it was a "last-ditch effort to win back the customers who have left to go to other places."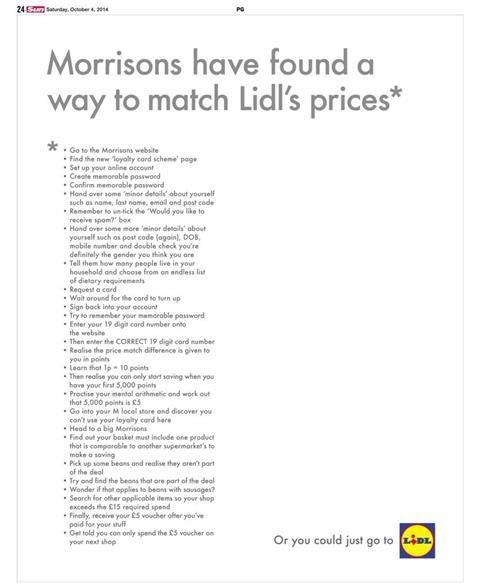 What do shoppers think? The army of savvy shoppers on websites such as MoneySavingExpert.com generally swarm all over announcements such as these and judging by the early reaction, Morrisons will have a job on its hands to convince shoppers.
In a stream of comments on MSE, consumers were generally sceptical and called on Morrisons to lower more prices instead. "Yes it looks like a price match con," suggests one poster. "People want more and they increasingly know how to get it. Supermarket loyalty isn't the way." Another says: "I hate rubbish like this. They have a database in which they know their prices are more expensive, so why not reduce their prices to match? Instead they give a voucher that you can use to buy even more of their expensive products.
How have rivals reacted? In response to Match & More Lidl quickly took out an ad in the weekend's press. The ad claimed "Morrisons have found a way to match Lidl's prices" before outlining the 28 steps needed to use the scheme. Alternatively, it suggested via the payoff line, shoppers could "just go to Lidl."
In similar vein (albeit not as wittily), Asda responded to last week's decision by Sainsbury's to drop Tesco from its Brand Match scheme and compare only against Asda by taking out a press ad on Thursday (9 October) proclaiming: "We're flattered Sainsbury's, but you're no match for us," as it pointed out 8,000 cheaper products at Asda last week.
What does the City think? The announcement by Morrisons last Thursday did not inspire analysts. By Friday lunchtime, the retailer's share price had fallen 4.5% to 156.3p. However, as The Grocer went to press on Thursday the price had rallied to 161.1p.
Analysts remain unconvinced that elaborate price-matching schemes are the answer when the growth in the market is with retailers, like Aldi and Lidl, that offer total simplicity in their pricing for the shopper or, like Waitrose, whose loyalty scheme boils down to a free coffee and newspaper. In his column for The Grocer this week, Shore Capital's Clive Black calls price-matching a "big yawn".
"All this price-matching would suggest it is a key competitive dynamic of the industry. Well we beg to differ because while the marketing gurus seek to put together ever-more clever initiatives to keep and maybe, they think, even attract new customers, the majority of shoppers have a life and [see these] programmes as self-serving and detached from their reality."

And what about the data side? Won't that be helpful? When quizzed recently about why Morrisons was going down the loyalty route, Philips said this was essential in terms of understanding its customers better. At the moment, Morrisons doesn't even know where its shoppers live, he admitted. And, at the launch of Match & More last week, he claimed the scheme would provide it with insight into its customers' shopping habits.

Shoppers signing up for their card have to provide details such as their name and address and are asked for additional information, such as whether they are vegetarian. However Morrisons admits that as yet it has not had any discussions with potential partners to mine this data and the information provided when shoppers use their cards. The focus has been on getting the scheme launched.