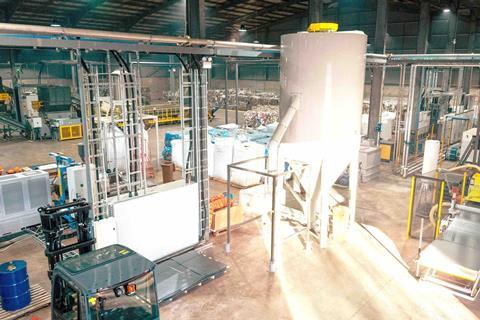 A pioneering new soft plastic recycling facility, co-owned by Morrisons, has opened for business in Scotland, in a move the supermarket called a "major step forward" in the war on plastic.
Up to 15,000 tonnes of chocolate wrappers, crisp packets, food films and other hard to recycle materials are expected to pass through the site in Glenrothes, Fife.
The plant uses patented technology to turn the packaging into plastic flakes, pellets and new Ecosheet, a material that can be used in the construction industry and agriculture.
Morrisons bought a significant stake in the site in October 2021.
It was constructed and will be operated by recycling plant specialists Yes Recycling.
Nestlé UK & Ireland and Zero Waste Scotland have also been involved in the development of the plant.
The government has said that by 2027, soft plastic film and flexibles need to be collected from all households through kerbside recycling collections, by all councils in the UK, though there has been a severe shortage of such facilities.
"The UK is in desperate need of more plastic recycling capacity and, in particular, for the so-called 'hard-to-recycle' plastic waste such as flexible food packaging," said Omer Kutluoglu, co-owner of Yes Recycling.
"Our new 'next-generation' recycling plant, which we've developed over the last seven years, is designed to tackle exactly these materials. It is a blueprint for the future and will help to kick-start the UK's plastics recycling industry. It will mean we can keep plastic in our own country's 'circular economy' and out of our seas and oceans."
Jamie Winter, procurement director at Morrisons, added: "We've done a significant amount of work to reduce our plastic use and now we want to help build a UK infrastructure to recycle the plastic that we may still need to use. By recycling these problematic plastics here in the UK we can give them a new life."