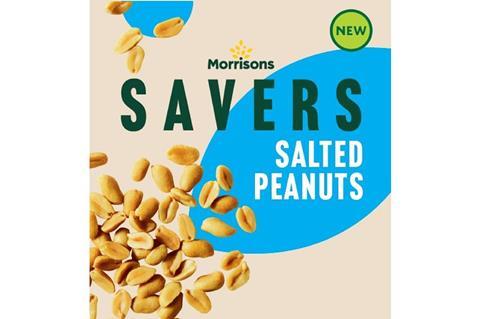 Morrisons is to relaunch its Savers range in the latest move by supermarkets to try to stop the exodus of shoppers to the discounters.
The Grocer has learnt the new products will hit the shelves in the next few weeks with new, more colourful white and blue packaging which will aim to achieve better standout than its existing neutral Savers packaging.
It is the latest move by the retailer as it tries to become more price competitive, with Morrisons having already invested £16m in January cutting prices across 130 lines of its Savers range.
The move saw almost 50% of Morrisons' 263 Savers products cut in price, including products such as bacon, cooked chicken, cheese, fruit & veg and potatoes.
However, despite a heavyweight advertising campaign to support the products, Morrisons has found its range somewhat overshadowed by the rollout of rival Asda's Just Essentials, which launched to replace its Smart Price lineup in May last year.
Asda claims it has attracted 400,000 new shoppers from rival supermarkets and the discounters with the launch, featuring bright yellow packaging.
The move by Morrisons comes with grocery price inflation hitting a new high of 17.1% this week according to Kantar, with Aldi achieving a record market share.
Morrisons has already made five major investments in pricing this year alone and the launch of its new Savers lineup will be another as CEO David Potts seeks to narrow the gap.
Paul Stainton, partner at IPLC Europe, said: "I'm not surprised Morrisons is making this move. Despite its investment in price cuts, its value range is very bland and doesn't really stand out.
"They will be looking to have the same impact as Asda Essentials which has made a point of having very bright packaging so it stands out in store."
Asda faced criticism when it launched the range for stigmatising shoppers, but claims the range has been a key part of its mini-turnaround, with value ranges back in vogue because of the economic crisis even though they are not big money earners.
Stainton added: "The supermarket value ranges won't turn the dial for supermarket profits because of the low margins, but they are an effective way of trying to prevent shoppers deserting to the discounters. We're seeing shoppers trade down, with branded shoppers going to premium own brand, premium own brand going to entry level own brand, and entry level own brand going to value."