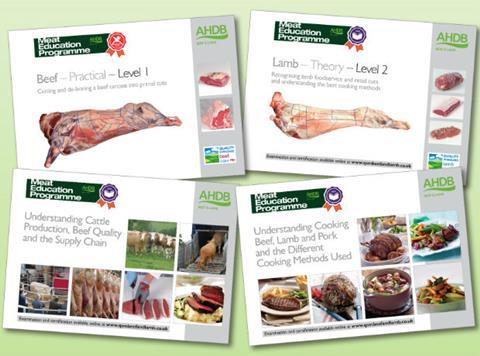 AHDB Beef & Lamb has launched a new meat training programme it claims will help supermarket meat buyers get ahead in a complex category.

The Meat Education Programme was developed to offer accessible training for everyone in the meat industry - from butchers and processors to meat buyers and traders, chefs and counter staff.

Theory modules cover everything from understanding different beef and lamb breeds, to identifying carcasses for classification, recognising different cuts and ideal cooking methods for different muscles.

Learning materials can be downloaded free from an online hub at AHDB's website, and there is an option to take a timed online exam at the end of each module. Employers can review progress reports, and staff can print off certificates for modules passed and even generate a list of training completed for a CV.
Practical modules are also available for butchers and meat processing staff, and AHDB will send an adjudicator for a fee. Companies can apply for their own training staff to become adjudicators to reduce the cost of putting staff through the programme.
Dick van Leeuwen, business development manager for AHDB Beef & Lamb, said the programme would be particularly useful for supermarket meat buyers, who often enter the category with little prior knowledge of or training about meat.

"There is currently a lack of knowledge in the industry and we have an awful lot of people making big decisions over what British punters eat who actually know very little about the product," he said.

"If I go into any mult I can pick out 10 meat products I wouldn't want to sell - either they are cut wrongly or there is too much gristle or fat. Things like this affect quality.

"This programme will give buyers the ammunition they need to ask the right questions, and hopefully make them understand there is a cost involved with getting the best quality product."

He said the training would also help supermarkets expand their range by introducing new cuts and providing the right cooking advice to ensure shoppers have an enjoyable eating experience.

"At the moment the number of muscles used at UK retail is very limited, particularly when compared to Continental Europe," he said.