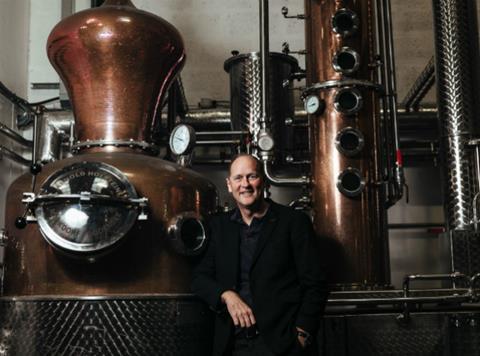 Diageo's Futures MD has left the spirits giant to lead BrewDog's distilling arm, LoneWolf.
David Gates, who worked for Diageo for 27 years across a number of roles including global category director for whiskies, global head of premium core spirits and global brand director for Johnnie Walker before taking the helm of its 'Futures' division in 2017, has been appointed as managing director of BrewDog distilling.
He told The Grocer he wanted to carve out a similar niche for LoneWolf in the spirits sector as BrewDog had done in beer – as The Grocer's Britain's Biggest Alcohol Brands 2018 report revealed in July, the anarchic brewer is now the nation's 13th biggest beer brand.
"It's an unbelievable remit to come in and help build a spirits portfolio that will do for spirits what BrewDog has done for beer," he said. "Although Diageo is a huge corporate, I have spent the last 18 months in Futures working with startups like Starward and Seedlip [both are part of Diageo's incubator fund, Distill Ventures] where everything has been about agility and speed and looking to rewrite the rules.
"There is room for a brand with a complete obsession with quality in spirits – there are plenty of people calling their spirits handmade but are actually just buying grain neutral spirit."
LoneWolf has over the last month rolled out rebranded packaging for its gin, vodka and premix RTDs, with an eye to making them easier to differentiate on the bar and on shelf. It also plans to release a range of rums and single malt whiskies over the coming 18 months.
There was arguably more of a challenge for BrewDog in spirits than there had been when it broke into the beer market, Gates added, given the current proliferation of craft spirit brands on shelves.
"You could argue BrewDog has enjoyed first mover advantage in beer, while in craft spirits there are many, many players already. So in some ways I think it will be more demanding on us both from a product and a positioning perspective to be more creative and innovative. But I still think the opportunity is really big."
LoneWolf would look to draw more on BrewDog's brand equity going forward, he said. "The level of fandom is extraordinary. There are thousands of people doing craft spirits so we've got a real advantage that the BrewDog name stands for something. We need to start thinking about how we leverage that and get the association working for us more."
Some spirits categories would prove more challenging than others, he suggested.
"Whisky is probably the most obvious one. When you think of the creativity, the energy, the iconoclastic nature of BrewDog coming into it could be really awesome. In other categories that are more congested, such as gin and vodka, I think the demands to be more differentiated are that much greater."
LoneWolf's previous MD, Doug Bairner, stepped down in June this year. He is still a non-exec.