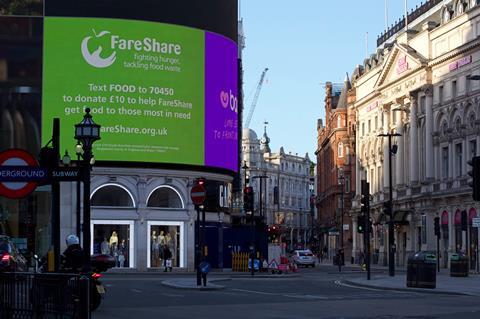 Redistribution charity FareShare is searching for a new director of food after it announced former M&S logistics chief Jo Dyson was leaving the role.
Dyson has played a pivotal role at the charity throughout the pandemic, which has seen the charity forge links with the anti-hunger campaign run by Manchester United footballer Marcus Rashford.
Dyson, who joined FareShare in 2018, began her career as a buyer for Sainsbury's. She has worked for a number of food retailers, most recently M&S, in buying, supply chain and logistics roles, latterly as head of its logistics business change programme.
She also previously worked as an advisor to the Department of Health on its work with the food industry, including the '5 a Day' campaign.
Since the pandemic, FareShare has more than doubled its work, providing the equivalent of more than two million meals a week to people who might not otherwise eat.
Within 100 days of the first lockdown a year ago, the charity had signed up 150 new food businesses partners, with Dyson a key player. She worked with Rashford and his campaign to raise FareShare's profile amid the crisis, as well as The Grocer's Waste Not Want Not campaign.
"When I saw the FareShare job I thought it was a great combination of what I'd been doing work-wise and my charity sector experience," she said. "I also hate food waste and the opportunity to put surplus food to such good use was irresistible."
FareShare CEO Lindsay Boswell said: "FareShare's relationship with the food industry is simply unrecognisable from when Jo joined us.
"She has driven our organisation forward in a self-effacing way and has been instrumental in leading our efforts to stop more food from going to waste across the industry. She will be a big loss to FareShare, and our network. But we know that Jo has some exciting new adventures for the next chapter in her life."
Asked what he was looking for in a replacement, Boswell said: "Someone with in-depth knowledge of the food supply chain. That could be either from a retail or manufacturing perspective.
"But they'll also need strong relationship skills and innovative thinking, a strategic brain and boundless energy. But above all, they'll see this role as a chance to drive huge social change and tackle food waste."