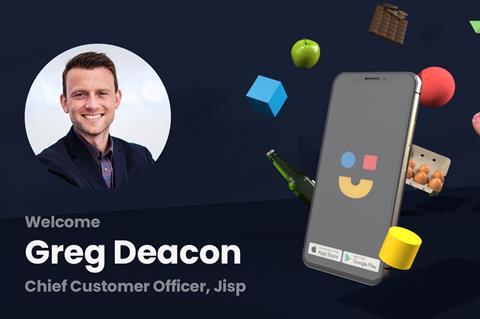 Shopping app Jisp, which offers home delivery, click & collect and scan & go services for convenience stores, has appointed Greg Deacon as chief customer officer.
Deacon will join the company on 1 February. He will manage customer relationships while focusing on Jisp clients as a wider business strategy.
"I look forward to unlocking the benefit that this technology can offer to wholesalers, retailers and brand partners," he told The Grocer. "We've got huge ambition to be the go-to platform."
His move to Jisp follows 15 months as COO for the NFRN, where he was responsible for leadership, partnerships, expansion strategies and orchestrating positive media coverage and stakeholder relations.
He has also gained retail knowledge from his experience at Camelot and News UK, where he looked after field sales and retail trade marketing strategies.
"It has given me an invaluable knowledge of the sector, beyond what I already had," he said.
"I have strong understanding of the challenges facing independent retailers, day in, day out, and an insight into how they think, how they operate, and how suppliers work with them."
Jisp CEO and founder Julian Fisher said: "For the last 10 months, whilst at the NFRN, we worked closely with Greg developing and implementing our shopping and payment solutions for their members.
"Now, as a member of Jisp's senior team, we look forward to benefiting even further from his retail knowledge, skills and experience, as we take our services into new markets and globally into new territories."