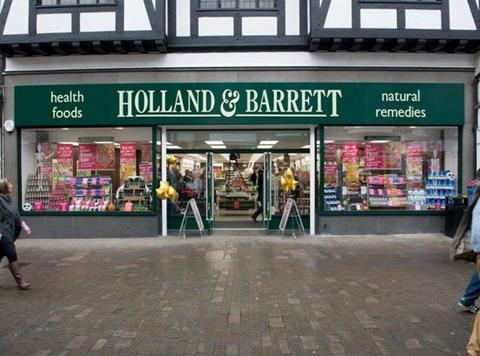 Holland & Barrett has appointed Sainsbury's Argos retail and operations director Steve Carson to its newly created MD position.

Recruited to drive the digital transformation of the brand, he will report to CEO Peter Aldis.

Carson will oversee the day-to day running of the business, which includes powering further growth across retail operations, e-commerce and the supply chain. As Sainsbury's Argos retail and operations director, Carson was responsible for 840 stores with 30,000 staff and a turnover of £4.5bn.

He has also held senior roles at Homebase, Sainsbury's and Argos.

While at Argos, he led a digital transformation strategy and created its digital store concept.

"This appointment of Steve represents an important and strategic milestone for our business, as we look to drive digital transformation across all aspects of our business. Coming so soon after our acquisition by L1 Retail, it is a clear signal of our intent to become one of the world's leading health and wellness brands," said Holland & Barrett CEO Peter Aldis.

"Steve brings with him considerable breadth and depth of senior level experience in driving transformation at Sainsbury's Argos. He will focus on our digital transformation programme and will help us continue to innovate in stores, e-commerce, logistics and supply chain as well as in customer service and fulfilment, creating the right platform for long-term sustainable digital growth."

He added: "Steve's appointment significantly strengthens our senior leadership team and provides greater capabilities for us to deliver a wide range of UK and international growth projects without losing focus on the short-term challenges that define modern retailing."

Carson said: "I'm excited at the fresh challenge ahead. Holland & Barrett is a longstanding and admired brand with enormous potential and a clear health and wellbeing proposition that is growing in popularity and relevance around the world.

"I know the board is committed to innovation, from the supply chain through to customer service, and together with the team I look forward to helping them realise our growth and development ambitions in the coming years."

Holland & Barrett International has more than 1,100 stores globally, including 788 branches in the UK and Ireland.