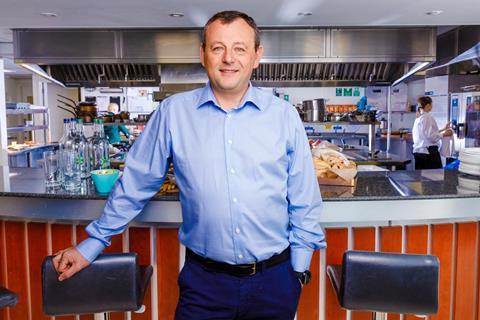 Sysco GB CEO Peter Jackson has been promoted to the newly created role of Europe CEO, The Grocer can reveal.
He will be replaced by Paul Nieduszynski, formerly chief commercial officer, who will continue with Sysco's ambition to be "the undisputed leader in the foodservice market and deliver long-term, profitable growth". Nieduszynski's replacement will be announced in due course.
In Jackson's new role, he will be responsible for driving transformation and building high-performing, customer-focused teams across Sysco's European market. The respective CEOs of France, Great Britain, Ireland and Sweden will all report to Jackson.
Sysco added there will be no practical changes in how it operates, serves customers, or in its partnerships with suppliers.
"I am passionate about improving every aspect of how our business operates, driving profitable growth while improving customer service and our colleague experience," said Jackson.
"Over the past few years, I've had the pleasure of leading Sysco's businesses in Great Britain and Ireland, where we've taken some great steps forward in working more collaboratively and sharing experience across the operating companies. I hope to continue that journey across Europe.
"I'm delighted that Paul will be taking over the leadership of Sysco GB, where he has already had a huge impact in making us even more customer-focused. He has exactly the right skills to lead the British business on the next stage of its development."
Jackson took over as Sysco GB CEO in January 2022, having spent four years as CEO at the business's Ireland operations.
He has almost 25 years of foodservice experience, having also held senior roles at Aryzta Food Solutions, Kepak Convenience Foods and Pierre's Foodservice.