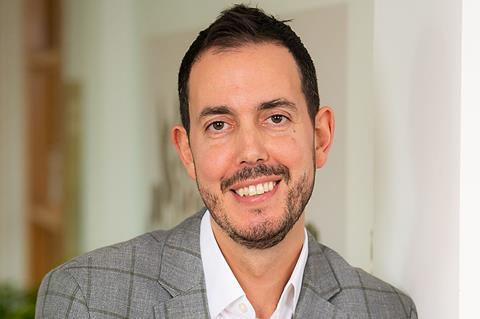 What was your first job? I was 10 years old, working as a hotel porter carrying suitcases. The salary helped me fund a selection of great bum bags.

How do you describe your job to your mates? I head up a marketing and category team for a pioneering food & drinks business with brands rooted in health & sustainability.

What is the most rewarding part of your job? Managing great brands with real purpose and having a fantastic team to enjoy the journey with.

What is the least rewarding part? Too many meetings.

What is your motto in life? Life has no rewind button; seize the day.

What would your dream perk be? The DeLorean time machine.

Any phobias? Heights, which is amusing as I'm 6ft 7in.

If you could change one thing in grocery, what would it be? All of us in grocery can do our bit to look at how we avoid excess packaging/single-use plastic. At Clipper we are proud to have moved to plastic-free teabags, which is one step.

What luxury would you have on a desert island? A boat so I can get back to civilisation.

What animal most reflects your personality? A giraffe would reflect my height. Personality-wise, probably a monkey - intelligent, fun creative.

What was the first music single you bought? Beat It by Michael Jackson.

Favourite film? The Rocky films - an all-time classic with a great soundtrack. Over the years I have used Eye of the Tiger many times for presentations.

Most embarrassing moment? One of them has to be when my mother organised a surprise first driving lesson for my birthday. Unfortunately it was in a Mini and, being 6ft 7in, I couldn't get my legs under the steering wheel, despite the instructor trying to force them. While this was happening my car door was open, causing a huge traffic jam, with drivers beeping their horns and shouting abuse/laughing.

Celebrity you'd most like to work with? This isn't going to be popular but it's Ole Gunnar Solskjaer - I'm a Man Utd fan.

Death row meal? A classic 80s three courses. Starter of prawn cocktail, main course of steak & chips, with Black Forest gateaux for dessert.