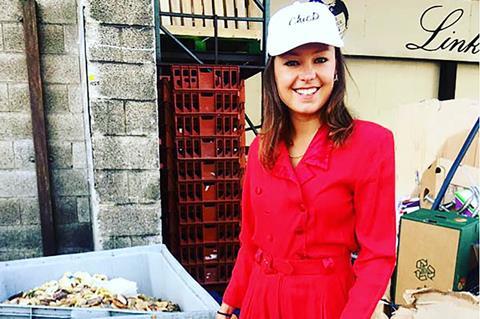 What was your first job? Aged 12 I worked in my local old-fashioned sweet shop in the New Forest. That summer I made around £150 - a huge amount for a 12-year-old.

What's been your worst job interview? There was one where the man interviewing me was very good looking: he asked me to tell him a joke. I told a very crude one which he did laugh at but it was very embarrassing.

What was your first music single? I Have a Dream by Westlife.

How do you describe your job to your mates? I run a company called Chic P that makes houmous from surplus vegetables.

What is the most rewarding part of your job? Reaching out to not only farmers but my customers, social network and other areas of the workforce to be able to try and help with a more sustainable lifestyle.

What is the least rewarding part? Driving to my manufacturer to collect the houmous every Tuesday.

What is your motto in life? You only live once. Chic P's is Eat Better, Live Better, Do Better.

If you were allowed one dream perk, what would it be? To work wherever you want, whenever you want, with delicious, fresh and sustainable food and drink. Is that allowed?

If you could change one thing in grocery, what would it be? No single-use plastic and no food allowed to go to waste.

What luxury would you have on a desert island? Music.

What animal most reflects your personality? A dog? I'll go with a labrador (not a lazy one).

What's your favourite film? I love The Sound of Music. I love history, music, dancing, beautiful places and being at one with nature - these things are all combined in a great story.

Which celebrity would you most like to work with? Bradley Cooper because he's gorgeous, good fun and I'm sure could have some influence on the rest of the world if we got working on some food waste and sustainability initiatives.

What would your death row meal be? Houmous with caramelised onions, pine nuts and herbs. Roasted aubergines with tahini, walnuts and spinach with dates. Followed by baklava and pistachio & lemon almond cake with natural yoghurt and honey.