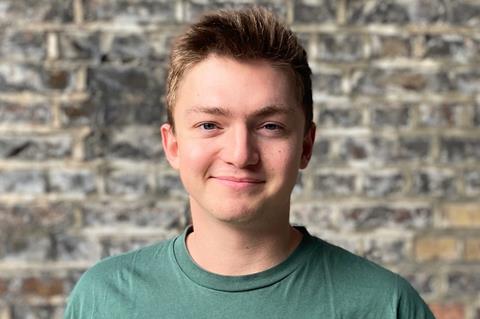 Name: Alex Kelsey
Age: 25
Job title: Head of sales
Company & location: Love Cocoa, London
Education: University of Chichester, Psychology
Why did you decide to go for a career in food? Food was a big part of growing up, my dad's a chef so there was always something weird and wonderful waiting in the fridge. At university I took a part-time job at a food start-up and instantly caught the bug (not 'rona) for the industry. Also, people always need to eat, so it seemed like a sensible choice.
Explain your job to us in a sentence (or two): To win new business and ensure our existing customers and the sales team have the support they need to grow and develop.
What does a typical day look like for you? Every day is different, especially at the moment. It typically involves reaching out to new retailers and companies looking to maximise their confectionery offering, across multiple categories, and speaking to our customers to see what's working and find any new emerging trends. We share NPD between us, and this year I've been working on our plastic-free Easter eggs and Advent calendars. And also all the non-sexy stuff like new line forms…
Tell us about how you went about applying for your job. The mission laid out at Love Cocoa was instantly appealing: the ethical sourcing policy, plastic-free packaging and push to fight deforestation. After a phonecall and formal interview with James [Cadbury, founder], my bags were packed for London. The culture seemed like a really good fit, there's a lot of trust and autonomy to find solutions, and we're constantly sharing new product ideas, which is an exciting environment to be involved in.
"Knowing that each bar we sell plants a tree is rewarding"
What's the best part about working for a food company? The free chocolate definitely helps! On a serious note, knowing that each bar we sell plants a tree is rewarding, helping combat deforestation – a problem rife within the chocolate industry. This year we've teamed up with a non-profit to work with farmers in Northern Cameroon, planting 500,000 trees in previously mono-farmed land. Each farmer plants 10 different species of tree, increasing biodiversity in the area whilst also providing an income and food for the families taking part.
And what's the biggest misconception people have about working in food & drink? That supply chains are going to improve without consumers and new brands challenging the status quo. Deforestation is a key one for us, so we're always trying to improve what we do, and hope the larger companies do the same. It's promising to see consumers increasingly conscious about the origins of their food, although there's still a way to go.
What advice would you give to other young people looking to get into the food & drink industry? An internship in a start-up is a good way to begin, from there you can find which areas interest you the most, and develop the skills to add value.
What's your ultimate career dream? MD and one day a venture of my own.