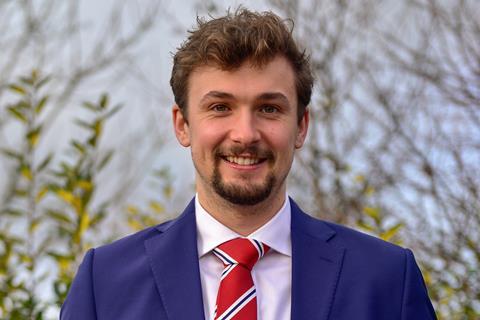 Name: Alex Rodda
Age: 24
Job title: Brand project manager
Company & location: Rodda's, Cornwall
Education: Business Management and Economics BA (Hons), University of the West of England, Bristol
Why did you decide to go for a career in food? My family have been involved in the food manufacturing and hospitality sectors, so food has always been a major part of my upbringing. After toying with the idea of working in the financial or automotive sectors, it seemed like I was overlooking this massive opportunity to capitalise on my underlying food knowledge.
Starting in a graduate procurement and stock control role at Rodda's, the company has offered me many opportunities to progress. Each role was a big step change and I sometimes wondered why I pushed for the promotion; but I couldn't be happier and will continue to step out of my comfort zone, to learn and gain experience. I've progressed through four roles during my three years in the business and each one provided different management experiences and responsibilities.
Explain your job to us in a sentence (or two): Working with the brand team, I look at new product innovations. I research and trial new product and packaging concepts, from the market research stage through to the implementation stage, working with the wider team members throughout the process.
"Being a family member, I really wanted to impress, which made the interview tougher for me"
What does a typical day look like for you? It sounds like a cliché, but no two days are the same. Naturally, as a project advances through the different phases, the evolution of my daily tasks flex to ensure I deliver the project milestones. My current role sees me working with cross-functional teams and across the wider business, and the ability to communicate, explain and influence your internal customer is paramount, whether this is at board level or the shopfloor operator. The constant challenges are what excites me.
Tell us about how you went about applying for your job. I applied for the job through the normal recruitment channel with me submitting my refreshed CV which I tailored to this specific role, including details of the experience that were relevant to help me succeed in the position. Naturally, I already had a number of years' experience in the business and being a family member, I really wanted to impress which made the interview tougher for me. The interview was with the marketing director and our head of HR, and I was so pleased to be offered the job.
Any particularly tough questions? As I have worked in various areas of the business for a long time and knew how it operated already, it was almost harder trying to interview for this new position. I had to really ensure I had done my research on the role and what it requires. The most difficult questions were around the importance of the brand to the consumer, and the value of research, which wasn't something I had experience in at the time.
What's the best part about working for a food company? One of my favorite parts is meeting and being face to face with consumers. Seeing how much happiness our products give people, and knowing I help contribute to that, makes me proud and all the hard work worthwhile. Regularly our consumers send in letters describing how they loved coming to Cornwall during their childhood and remember experiencing our Cornish clotted cream on their holidays. They say that, by enjoying our clotted cream at home, these great memories come flooding back to them, which is very heart-warming to hear.
And what's the biggest misconception people have about working in food & drink? People think that working with the same very traditional product week in, week out, you would get bored and definitely be tired of eating the cream. However, I'm quite the opposite – I love eating our clotted cream, and I am not ashamed to say that I enjoy it weekly.
What advice would you give to other young people looking to get into the food & drink industry? I always think career planning must be easier if you want to be a doctor or lawyer, as you have a clear route to an industry – but food and drink isn't like that. There are so many roles from marketing to technical, I'd advise to people to start speaking to prospective fmcg brands which interest them and explore all the different disciplines to see which one resonates the most.Even if the companies are not advertising any current roles, they are usually more than happy to advise and could well put you on their contact list should an opportunity arise.
My biggest learning is, don't be scared to try different things to find out what you enjoy – if it doesn't work out but it's with a company you love, look for new opportunities within the business, or if you'd prefer a complete change, look further afield. Knowing what you don't want to do can be just as useful as knowing what you do want to do. I knew my graduate role wasn't what I wanted to do in the long term, but it allowed me to get my foot in the door. From there, I've thrown myself into every opportunity, which has allowed me to experience a number of different roles. The time wasn't wasted, as it has given me a firm understanding of the wider business areas, which has stood me in good stead for my current role and I'm sure it will in the future.
What's your ultimate career dream? I would love to be at the head of a growing fmcg company that has great brand integrity, which is loved by its consumers and has a real focus on community. I may already know a company like that…