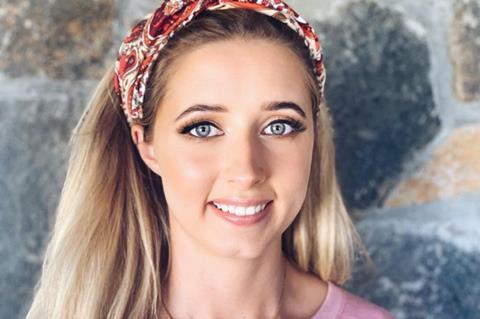 Name: Ashlee Byrne
Age: 23
Job title: Digital Marketing Manager
Company & location: The Naked Collective, Ireland
Education: Maynooth University, BBA Marketing
Why did you decide to go for a career in food? My career choice towards was less about the food industry and more about the opportunity to be a part of a business that I could believe in. More and more graduates and other professionals are wanting to join companies that really care about our planet and are proactively working to benefit people, communities and the environment. Being just at the beginning of my career, having previously interned in large organisations such as The Central Bank of Ireland and continuously worked in Ireland's largest equestrian retailer throughout my university days, I had experienced a mix of sizes of organisations and industries already. The food industry was one I had not explored yet, so I was ready to dive right in and learn as much as possible. Eleven months later and I would happily do it all again, the experience has been phenomenal.
Explain your job to us in a sentence (or two): As digital manager it is my role to make sure that we are getting our products out there in the best possible way across digital. I produce unique and diverse ways to utilise digital opportunities for the brands. And work to educate consumers about our brand's unique health benefits, making it as easy as possible for consumers to convert.
What does a typical day look like for you? No two days are the same at The Naked Collective for anyone, in fact no two hours are the same, that is just how fast we are going. Launching in multiple countries all over the world is exciting – you could be on Teams calls with the west coast of the US that evening and Italy the following morning. With multiple brands, campaigns and countries, working with an incredible team and agency partners to launch and grow our e-commerce and digital presence is a big part of my day. Some days some of us may need to drop everything to come together with members of different teams to what we like to call "mad max". This is where we come together for a purpose, brainstorm, challenge each other, make decisions and work at pace to deliver it. We are constantly learning to challenge each other, have a growth mindset and get comfortable being uncomfortable.
"We have the ability to create real change in the industry and benefit our people and planet in doing so"
Tell us about how you went about applying for your job. In a fast-paced startup, the application process is fast. I heard about The Naked Collective through contacts of the founders, Catherina and Niall. Seeing their website was due to launch that week and looking at their socials I instantly sought out the marketing department and expressed interest in joining.
After a few phone calls I was sent an immersion deck for the brands and asked to put together a presentation for Niall on a few areas of digital marketing. As soon as I chatted to Niall and presented, I was even more excited about the opportunity to work in a startup environment and start all aspects of their digital journey. I think the toughest question in the interview came from me, when I asked Niall what my typical day or week would look like: he prepared me very well for the "rollercoaster" of a startup.
What's the best part about working for a food company? Teamwork. Working closely as a team between every function of the business means we have the ability to create real change in the industry and benefit our people and planet in doing so. There are endless opportunities to learn about the industry, from taste-testing NPD in the office kitchen to organising shipments to Amazon. We are constantly innovating in the background to bring more offerings, better taste, better efficacy, more refreshment across the world.
And what's the biggest misconception people have about working in food & drink? Some people think it is boring and bland: they do not realise the passion behind every innovation on shelves. The industry can improve consumers' health and wellbeing with brands challenging each other to do better, be more transparent and be more innovative.
What advice would you give to other young people looking to get into the food & drink industry? Be passionate, brave and ask the right questions. Celebrate your mistakes! Everyone makes them, you can only adapt and learn from them. Get to know every part of the industry you can: there are so many, and you will meet some amazing people, from food scientists to data analysts.
What's your ultimate career dream? My ultimate career dream is to always work towards having a positive impact for people, communities and the environment, no matter what role, or industry it is in. If that is working for a business, a non-profit or working for myself, I need to always keep my drive and passion to do something bigger than just make revenue. With my passions for animals, the planet and people, I am continuously looking to make a bigger and bigger difference while doing something I really believe in.