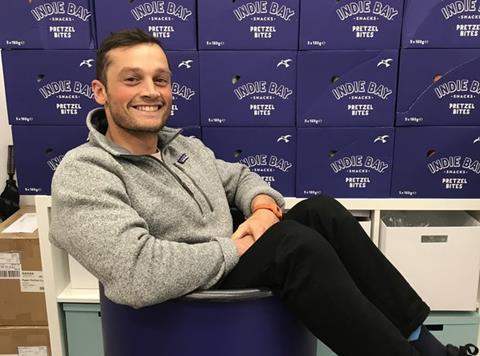 Name: Ben Allchurch
Age: 24
Job title: Sales manager
Company & location: Indie Bay Snacks, Westbourne Park, West London
Education: English literature & French, Durham University
Why did you decide to go for a career in food? Food has always been a large part of my life. My dad set up a healthy, Italian fast food chain about 15 years ago and, despite that not working out, has been working in food ever since. I also worked in various restaurants (some pretty good, and some less so) while growing up, and have always seen the food industry as a very exciting, challenging, and diverse place to start my career. Ultimately, however, it was a field sales internship at Pip & Nut that introduced me to the world of London-based food startups, and convinced me to dive in.
Explain your job to us in a sentence (or two): I look after our wholesalers, and the larger customers they supply. Business development also forms a significant part of my role, as well as running some of our e-commerce channels.
"The variation in the job is fantastic, something that most other graduate roles simply don't offer"
What does a typical day look like for you? While no two days are the same in such a young and fast-growing company, I often start by checking sales data from some of our key accounts. This might be followed by chasing leads, and checking in with new accounts, either from my desk, or out and about in London. I also work closely with our marketing team to help maximise value from promotions and trade shows. The variation in the job is fantastic, something that most other graduate roles simply don't offer.
Tell us about how you went about applying for your job. I actually applied to several food and drink brands, but after going in for an initial interview, I felt strongly that Indie Bay was the best fit. After a second interview that involved a closer look at my past experience, and a sales strategy presentation, I was lucky enough to be offered the role. No single question stands out, but I would always recommend interviewees to think about where they see the brand in three, six, or even 12 months down the line.
What's the best part about working for a food company? The variety, and the really tangible impact you can have on the business. The community of food and drink startups is also fantastic: everyone is passionate about what they do, great fun, and always ready to give advice.
And what's the biggest misconception people have about working in food & drink? Working in a small company leads some people to believe that there is little work, and that not much is taken very seriously. While the culture may be more casual than a corporate business, everyone in a small company has to be extremely proactive, and constantly seek to improve and grow the business. Moreover, the challenges to a small food & drink business are myriad, and often very difficult to navigate due to company size and resources. Basically, it's not plain sailing!
What advice would you give to other young people looking to get into the food & drink industry? Hustle! Send emails to as many brands as you can, asking if they need any help over a summer or university holiday. While they may not be actively hiring, food & drink brands are always looking for an extra pair of hands. Also, be prepared to get stuck in. There won't be a week-long 'orientation' with 20 other graduates. You will be expected to get involved as soon as possible, which is one of the best things about working for a food startup: immediate exposure to the everyday workings of a business, across all areas.
What's your ultimate career dream? Who knows! I'm sticking with Indie Bay for the time being, but I definitely want to live and work abroad for several years, and to get involved in sustainability at some point in the future.