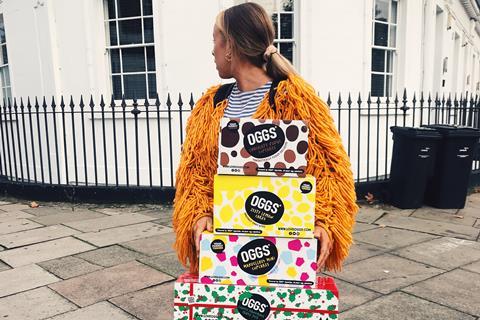 Name: Celeste Hartley
Age: 25
Job title: Community and brand manager
Company & location: Oggs, London
Education: I attended Berkhamsted School where I studied philosophy and ethics, art, and geography at A Level. I started studying film at university, but I got itchy feet and was desperate to be out in the working world, so I made the decision to leave after a year.
Why did you decide to go for a career in food? It wasn't something I had specifically considered before working at Oggs but following a conversation with Hannah Carter, the founder, I was sold. It was the vision and drive that she had to make a positive change through food products that caught my attention (plus the cakes were pretty good too). Purpose-driven brands is a space that I have always been in, and now more specifically food!
Explain your job to us in a sentence (or two): I guess you could say I'm guardian of the brand. As a brand manager, I am the consumer voice in the company. This means that I look after the company's identity, voice, and how we communicate our products and overall company mission by working across all consumer-facing channels ensuring customers understand the value of Oggs.
What does a typical day look like for you? Honestly, no two days are the same. I usually start my day by checking in with our online community and engaging with our followers. From there anything could happen! One day I'll be on a photography shoot, the next I'll be in an internal strategy session or doing packaging reviews and product testing. Being a small company means that there is room to get involved in most areas of the company, which keeps everything very exciting. I'm incredibly lucky.
"I guess you could say I'm guardian of the brand"
Tell us about how you went about applying for your job. I was living in Australia when I was first introduced to Hannah. It was the very early days of Oggs but her vision was clear. We had a Skype interview and I instantly fell in love with the company, this was followed by a second stage technical interview with a social agency. Once I found out I had the job, I left the beach for London and never looked back!
What's the best part about working for a food company? Free cake?! Kidding. For me, the best part is the impact that we can have by making such small but important changes to everyday products. Food is one of the biggest ways that we can positively change the future of the world we live in and seeing the results reflected in our numbers is so exciting. For example, since launching to supermarkets last year we have saved over half a million eggs from being used commercially and given over 80,000 chickens the day off! There is so much amazing innovation happening in the food industry, specifically the plant-based space, and being in the centre of it is truly amazing.
And what's the biggest misconception people have about working in food & drink? That all we do is eat our products! To be honest, as I'm new to the food space I'm not sure what the preconceptions are of people in the industry, but that seems to be what my friends think I do.
What advice would you give to other young people looking to get into the food & drink industry? I would say the scope for jobs is so much bigger than you think. There are so many moving parts to a food company, from operations to marketing. It takes a real variety of skillsets to make it work. Research the brands and products you like, keep an open mind, and be prepared to do the dirty work. We all get involved in every area of the business. One of my first big jobs was standing in the freezing cold at a stall in Borough Market. It's all part of the journey!
The biggest piece of advice I would give would be to talk to as many people in the industry as you can, even if it's just to meet up for a coffee with them, find the brands you like, and get in touch! Having the right qualifications can help but it is not essential and shouldn't put you off pursuing your passion.
What's your ultimate career dream? Ideally, I would like to work on brand strategy with more purpose-driven brands like Oggs, helping them to streamline and focus on the 'why' behind what they are doing and bring that to life from a consumer-facing perspective.
For me, it has to be purpose-driven. I need to feel fully aligned with the company in terms of values. I also have a dream of opening a beach bar on a tropical island so it could go either way.