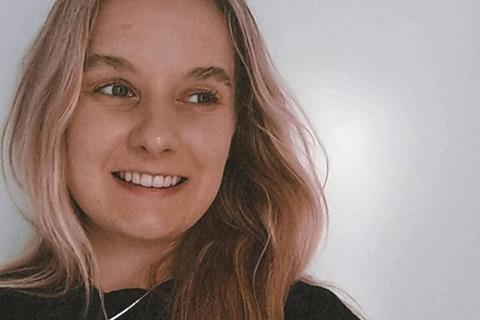 Name: Charlotte Willis
Age: 25
Job title: Social media marketing manager
Company & location: One Planet Pizza, but I work remotely from London.
Education: I studied my undergraduate BSc in Psychology at the University of Birmingham, and I'm currently a full-time MSc student at King's College London, studying Clinical Neuropsychiatry.
Why did you decide to go for a career in food? Considering my rather unrelated educational path, it's a great question to ask! I began working in the social media space around five years ago, when plant-based eating was just starting to build momentum into the fast-paced, jam-packed scene we find ourselves in today. I created content and social media graphics for charities and magazines based on my experience in the plant-based world. Through networking at events, I met Mike and Joe, the founders of One Planet Pizza, and it all blossomed from there.
Explain your job to us in a sentence (or two): My role with One Planet is extremely diverse (which I love!), but I would define my job as managing the public-facing side of our brand. I ensure our messaging, purpose, and community-led values are both communicated and developed in a forward-thinking (but super fun) way.
What does a typical day look like for you? I don't really experience a "typical" day at One Planet, but I wouldn't have that any other way. A lot of my time is spent creating social media content, staring into my phone engaging on Instagram, and dotting in and out of calls for brands we're collaborating with. I also head up One Planet's ethical conscience, directing our community projects and sustainability pledges, which is probably the most wonderful part of my role. Other than that, I dabble in pizza product development, website design, advertising, and a whole host of other miscellaneous tasks.
Tell us about how you went about applying for your job. I was lucky enough to be approached by One Planet Pizza to come on board as a social media manager. I had an informal interview with Mike and Joe, who gave me a tour around the site, before chatting about One Planet's values. I really liked the sound of where the company was heading, their purpose to make the frozen pizza sector a more ethical place to shop, and how committed they were to doing the best for the planet. My job evolved with One Planet over the years from managing their social media to directing their online marketing and communications.
"The best part is knowing that you've got the ability to change someone's opinion about plant-based food with one bite of your product"
What's the best part about working for a food company? I'd say the best part is knowing that you've got the ability to change someone's opinion about plant-based food with one bite of your product (which is a lot of pressure, but also pretty freakin' epic). Also, knowing that your product has the opportunity to make a greater impact, by helping us to invest into community projects with charities such as Made In Hackney and Mind. It's more than just pizza, that's for sure.
And what's the biggest misconception people have about working in food & drink? A lot of my colleagues in different marketing roles assume we are inundated with free samples. Unfortunately, this is not true. I really wish it was though…
What advice would you give to other young people looking to get into the food & drink industry? My biggest piece of advice is to network yourself into the role. I often think we get too caught up in chasing down qualifications, which are important obviously, but not the be all and end all. If you believe that a company in food or drink aligns with your values, or you love what they're doing, get in their business by getting all up in their business. Follow them on LinkedIn, social media channels, and get to know the ins and outs of what they do. From there, you can identify areas which they'll need to improve on, and that's your in.
What's your ultimate career dream? For me, it'll be a combination of working within marketing and pursuing a career in clinical psychology. In a few years, I hope to do a clinical psychology doctorate degree, and combine my studies with a social media movement encouraging mental health awareness and mindful living. I also plan on writing a few more books following on from 'Vegan Do It! A Young Person's Guide to Living a Vegan Lifestyle'.