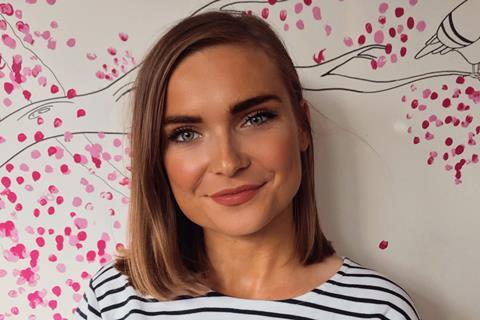 Name: Daisy Gibson
Age: 25
Job title: Brand and creative manager
Company & location: Mallow & Marsh, Camden Town
Education: University of East Anglia, English literature & creative writing
Why did you decide to go for a career in food? I got into the food industry completely by accident. I moved straight to London after finishing my degree, with no job, and stayed with my uncle and his family. It was through my uncle I was introduced to Life Health Foods, was offered the opportunity to manage their new brands' social media, and so started my career in food and drink.
Explain your job to us in a sentence (or two): I am in charge of making sure everything we do at Mallow & Marsh is in line with our brand – creating visuals for online and print and running the day-to-day within the marketing team.
What does a typical day look like for you? On a typical day, I work closely with our product team on NPD packaging design and concepts. We've been working on our brand for a while now so I will often meet with our content executive and discuss our plans for upcoming campaigns. You'll also often find me dressing our 'marshmallow dude' up for various social media posts and sales pitches.
Tell us about how you went about applying for your job. After leaving my role as marketing executive at Life Health Foods, my old colleague Chris Green, now co-founder of Young Foodies, posted: 'The most creative person I know is looking for a job' on LinkedIn. Harriot, our founder, replied to his post and I was invited in to Mallow & Marsh meet the team. I had an interview with two members of the team (who asked a lot of questions about my favourite chocolate bars) and then met Harriot, who then had to put up with me sharing every page from every sketchbook I owned.
"Always try and get hold of the product before you go to the interview. It shows that you are actually serious about the role"
What's the best part about working for a food company? Food is an amazing industry to work in. The brands you meet are always so friendly and inclusive and so willing to share advice. Food and drink is always changing and evolving so we consistently get to have exciting innovative conversations, try new products and see our creations come to life. Obviously the product swaps are a huge bonus too.
And what's the biggest misconception people have about working in food & drink? I think the biggest misconception is how long it takes to come up with a concept, bring it to life and then work with suppliers and customers to get it on shelf. So much work goes into winning a major listing and for a small company like ours it means the world.
What advice would you give to other young people looking to get into the food & drink industry? Stay on top of what is going on in the industry, from new concepts to packaging and sustainability innovation. It's really helpful to know what other brands are up to and it will immediately set you apart. Always try and get hold of the product before you go to the interview, with small companies. It won't always be possible but it shows that you are actually serious about the role. I'd also say, make sure you work for a food and drinks brand you are really passionate about and either already enjoy or can see yourself loving. It makes such a huge difference to work for a company and product that you are completely invested in.
What's your ultimate career dream? I'd love to carry on defining the creative path for other companies, building a team of passionate people and seeing concepts transform into reality. Then retiring and spending all my time drawing dogs.