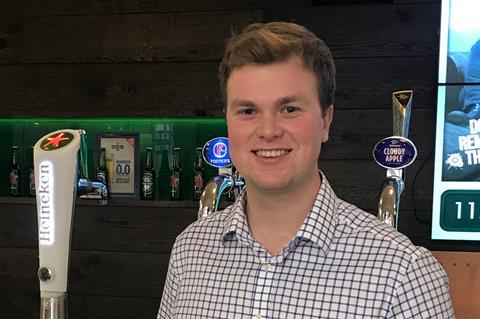 Name: David Walker
Age: 23
Job title: Retail development manager
Company & location: Heineken UK, London
Education: Robert Gordon University, Aberdeen – Management with Marketing (First)
Why did you decide to go for a career in food & drink? My grandfather had a long and successful career in the whisky industry, and from a young age I was fascinated by this. However, it wasn't until I was in my final year of university, during which I was applying for jobs, that I seriously considered a career in food and drink.
Explain your job to us in a sentence (or two): As the retail development manager, I am responsible for driving category sales through developing winning relationships with selected retailers (with a particular focus on multi-site operators) and the development of targeted regional contacts within customer sales teams by ensuring excellent brand activation and event execution.
What does a typical day look like for you? There is no such thing, which is the beauty of what I do. One day I could be presenting at a large annual conference to 200-plus individuals, and the next I could be visiting a small independent retailer offering advice on how best to grow their cider and beer category.
Tell us about how you went about applying for your job. I had a slightly different route to get to the position I am currently in. While still at university, I applied for the Heineken UK Leadership Graduate Scheme, and after several stages including CV, cover letter, video interview and two face-to-face interviews (the latter including a presentation to the senior management team), I was unsuccessful and closely missed out at the final stage. Thankfully, I impressed enough to be offered a role in the customer service & logistics department on a fixed-term contract as the deployment planner for our Hereford site based out of Edinburgh. It was from here that I was able to make the move into the off-trade side of the business and relocate to London, which was brilliant as it's a side of the business which I love.
"The off trade at Heineken is like one big family – we win together and support each other through challenges"
What's the best part about working for a drinks company? The people. Due to the nature of what we sell, I find I work alongside a lot of like-minded individuals who are supportive and realise the importance of striking a good work/life balance, and enjoy socialising and sampling our fabulous brands. The off-trade at Heineken is like one big family – we win together and support each other through challenges we face.
And what's the biggest misconception people have about working in food & drink? Although working for a drinks company of course has its perks, it's not all fun and games, and we face the same challenges and constraints as other businesses. The retail environment is continually changing and we have to be at the forefront of these changes and ensure that we are delivering great opportunities for our customers to maximise cider and beer sales. Resilience and being adaptable are key ingredients to succeed in this industry. There are plenty of highs, but there are also some lows, and the ability to bounce back makes the highs even more enjoyable.
What advice would you give to other young people looking to get into the food & drink industry? Apply for summer internships or placements through university – lots of fmcg companies recruit for these roles across a range of departments. The more experience you can accrue before finishing your studies, the better position you will be in when applying for full-time work.
What's your ultimate career dream? Currently I work in an environment where respect for others is fundamental to the culture. No matter where my career journey takes me, I want to continue to be respected and admired by my peers throughout my career.