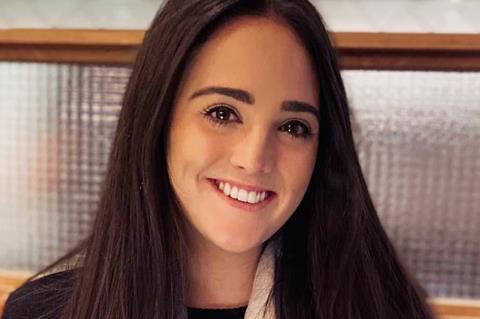 Name: Elena Stevens
Age: 23
Job title: Marketing Executive
Company & location: OTL (Spunj brand), Castleford
Education: De Montfort University, Advertising & Marketing Communications
Why did you decide to go for a career in fmcg? After completing a placement year working for a drinks company I really enjoyed the fast-paced nature of the industry, and the amount of opportunities that are available. I liked the fact that there is always something new and exciting going on in the industry, it's full of continuous innovation.
Explain your job to us in a sentence (or two): To make others as passionate about the Spunj brand as we are at OTL, across social media, trade and consumer comms and bringing to life new and exciting potential NPD ideas.
What does a typical day look like for you? You'll find me wearing several different hats throughout the day. It might sound clichéd, but no two days are the same. I'll usually start the day by checking our social channels, engaging with our followers and answering general customer queries (it seems strange that I virtually talk to thousands of people daily!). From there I could be working with the team on the next NPD idea, liaising with customers about online promotions, working with our B2B partners or creating TikToks.
Tell us about how you went about applying for your job. I had just finished university during a global pandemic in 2020 so it wasn't the best time for graduates. I had heard OTL were wanting to expand their team to hire someone to set up their B2C and B2B social channels, and I liked the sound of joining the company during an exciting time in their growth. The interview wasn't too daunting and it allowed me to speak openly about my background and the experience I had gained to date.
"I had just finished university during a global pandemic so it wasn't the best time for graduates"
What's the best part about working for a fmcg company? The flexibility to be involved in multiple projects and have the freedom to propose new ideas. It's quite an innovative culture so it's refreshing to be able to propose ideas and discuss them with the whole team.
And what's the biggest misconception people have about working in fmcg? When I speak to people about what I do they sometimes say "Aren't you just promoting things people need anyway?". With household goods, that's arguably true, but there is so much more that goes on behind the scenes. There is so much choice in the market for consumers, so we really have to make our offering stand out from the crowd.
What advice would you give to other young people looking to get into the fmcg industry? I would always encourage anyone to seek work experience in the industry as this will help you see if fmcg is the right fit for you. I did a year placement as part of my university degree and it was the best decision I made. It gave me the confidence to liaise with so many people and a great opportunity to work on both B2B and B2C marketing. There are lots of companies that offer some amazing work experience opportunities – get creative with your application and just go for it!
What's your ultimate career dream? My ultimate dream is to manage a recognised global brand that everyone wants in their home. I'd love for everyone to have the same excitement and anticipation about a campaign I've worked on as they do around the adverts.