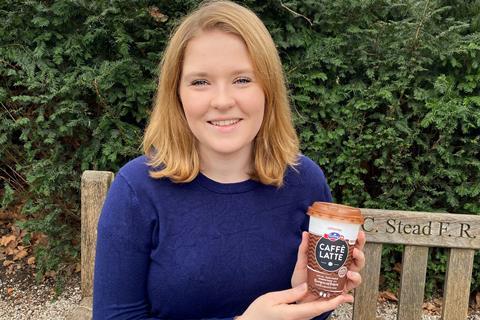 Name: Ella Rosen
Age: 25
Job title: Category development manager
Company & location: Emmi UK, London
Education: Sheffield Hallam University, Food Marketing Management
Why did you decide to go for a career in food? When I was younger, I wanted to work with food but didn't know the best way to do that other than becoming a chef, which I realised my skills weren't quite cut out for. I decided to do a degree in food marketing as I wanted to do a placement year to see if I enjoyed the business side of the food industry. I immediately loved it as I am fascinated at how food brings out strong opinions and emotions in people. I also enjoy the tangible nature of food products and the ability to see the impact of your work in day-to-day life.
Explain your job to us in a sentence (or two): I work in category, so my job is about helping retailers grow their categories by sharing market insight and data. I also work closely with our sales and marketing teams on a day-to-day basis, providing insight on current market trends.
What does a typical day look like for you? There is a lot of variation within my typical day but there is always an element of data analysis. My larger projects are preparing and presenting current market data and insights to retailers, which now has to be done virtually. I also need to be in contact with our sales and marketing teams to help them understand the category. Alternatively, it could be store visits (pre-Covid) to help research the real-world info on the category.
Tell us about how you went about applying for your job. The interview process was a two-step process, with both taking place at Emmi UK head office in Putney. The first stage was a face-to-face interview with my future manager and the head of commercial. The second stage involved creating a presentation based on a current challenge the business faced, which was presented to not only my future manager but the head of marketing and Tesco account managers. With the UK team being relatively small it was great to have so many people involved with the interview process as it meant that I got to meet lots of the people I would be working with daily before joining the business. It also allowed me to look around the office and get a feel for the culture.
"There are so many different roles within the food and drink industry that I had no idea existed until I joined Emmi"
What's the best part about working for a food company? The best part of working for a food company is working on amazing brands and then seeing them in supermarkets when out and about. It's really rewarding to see products you have helped to launch in the supermarket. The free samples and getting to try new products before they launch is also a highlight!
And what's the biggest misconception people have about working in food & drink? Some people think the food & drink sector is relatively static but in fact it has never been so fast-paced, no matter what category you work in. Consumers are wanting to try new brands, new products and are more aware of the impact of the products they buy than ever before.
What advice would you give to other young people looking to get into the food & drink industry? There are so many different roles within the food & drink industry that I had no idea existed until I joined Emmi and started working with different teams. I always thought I wanted to work in marketing as I didn't know what other roles existed within the food industry but after six months realised it wasn't for me and I moved back into category management. My advice is to not be afraid to try different roles if the opportunity arises. Even if one role doesn't work out, there will be another one that fits you.
What's your ultimate career dream? My career dream is to become the head of a category and insights team, as I enjoy not only the data and insights side of my role, but also working with a team. It will always be important to me to work for a company that focuses on making a meaningful impact on both the consumers buying our products and the sustainable impact that our products have.