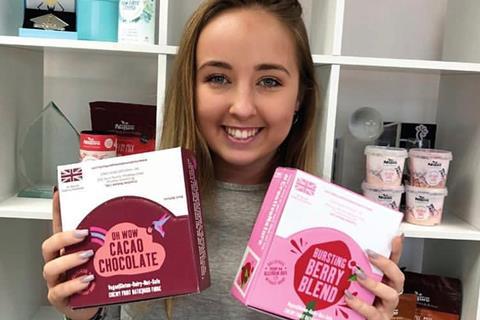 Name: Ellie Wilkins
Age: 20
Job title: Design and marketing associate
Company & location: Creative Nature, Surrey
Education: The Sixth Form College, Farnborough; A Level Biology, Psychology and Graphic Design
Why did you decide to go for a career in food? I have always been interested in food, whether that be the nutrition behind it, the packaging that sells it or simply the way that great tasting food like Creative Nature's can bring people together. When I discovered Creative Nature's rebrand was something I could get involved with, I immediately applied for an internship with the company.
Explain your job to us in a sentence (or two): My job combines my passion for good food with my passion for design and creativity. Creative Nature's mission is to provide food that is not only free of the top 14 allergens, but delicious for everyone. My job within the company is really varied and that's what makes it so exciting!
My main responsibilities include running our five social media channels, marketing emails and influencer/affiliate campaigns, as well as designing adverts, marketing materials for events, and packaging for new product launches such as our carrot cake and pancake baking mixes recently.
What does a typical day look like for you? I will start by responding to emails and social media, before scouring the web to look for any trends within the industry and beyond that we could put our own Creative Nature Twist on. The second part of my day could be anything from scheduling social media content months in advance, to filming a banana bread tutorial, to designing a last-minute advert for Sainsbury's magazine – no two days are the same!
Tell us about how you went about applying for your job. I was recommended to Julianne [Ponan, founder] by Helen Hambleton who is a non-exec director at Creative Nature. I then sent my CV and a cover letter directly to the team. After a telephone interview, I met Julianne face to face, presented my graphic design portfolio and the rest, as they say, is history!
"I get to hear lots of stories from customers grateful they have finally found a product they can safely eat"
What's the best part about working for a food company? Other than getting stuck in with taste testing the recipes for new products (which is arguably my favourite part of the job), I love seeing how much Creative Nature customers enjoy the food! With all products being free from the top 14 allergens, I get to hear lots of stories from customers grateful that they have finally found a product they can safely eat – especially with the nut-free 'Hazelnot' Gnawbles (which are delicious!).
And what's the biggest misconception people have about working in food & drink? A lot of people think that when a product is stocked in a supermarket, it must come from a huge company. Creative Nature has thousands of products stocked in supermarkets up and down the country from baking mixes to superfood powders, yet we're only a team of eight! It's all hands on deck and really hard work, but so rewarding.
What advice would you give to other young people looking to get into the food & drink industry? If you know you want to be in the food industry but aren't sure which sector, working in a start-up company is a great way to get experience in every part of the company. Even though my role is mainly in design, I have been lucky enough to spend days at the factory tasting new Gnawbles recipes as well as days in the warehouse packing orders! I also get to work alongside Julianne, the founder, very closely which enables me to learn so much more.
What's your ultimate career dream? I love seeing how my work can translate into real-life change, so I'd love to be managing a team or a few individuals in order to see even more change and growth.