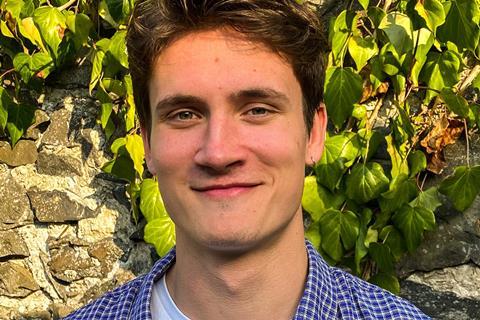 Name: Ethan Hogan
Age: 22
Job title: National account manager
Company & location: Piccolo, London
Education: English Literature at University of Sheffield
Why did you decide to go into a career in food? A friend of mine interned at Moju one summer and absolutely raved about the small team way of working in a challenger brand. From speaking to her and doing some research of my own, I quickly learned that the food & drink industry had a really casual yet thrown-in-the-deep-end reputation, which all sounded like a bit of me. The idea of not having to wear a suit was also a sizeable contributing factor.
Explain your job to us in a sentence (or two): On paper, my job is tripartite and consists of growing Piccolo's existing non-grocery accounts, heading up new business development, and I have recently started on some grocery accounts. On top of that, as I'm sure anyone working in a start-up will agree, there are always some curveball tasks that come out of the woodwork and keep us all on our toes.
What does a typical day look like for you? It starts by getting into the office around 9 (I'd say dead on 9 but I know that will raise a few eyebrows internally) and beginning the day with a chinwag about the intricacies of everyone's dinner. Then my day turns into a balancing act of existing and new business account management, as well as supporting the rest of the team where opportunities arise. For everything existing, it is about making sure products run smoothly between Piccolo and wholesale/convenience customers and ultimately sell. That includes listing new products, optimising promotions and managing marketing activity – all whilst making sure profitability is staying afloat. New business, on the other hand, is a different kettle of fish. As there are so many eye-catching brands and innovative products/flavours in the market, creativity is key to getting noticed.
Between entering stores as a 'dad of two little ones' to get the inside scoop from managers, and putting together Joe Goldberg-esque emails excusing the 9,891 missed calls on a buyer's mobile, there's never a dull day. There always seems to be a new challenge to solve – if not, we find one. Somewhere in the middle of all that is the essential daily cleansing ritual (a trip to Greggs for a Sausage, Bean & Cheese) and our catered team lunch from Feedr, a big perk and a staple in the day, and the perfect chance for a couple of non-work (often nonsensical) chats.
"The power of youth is so prominent within this industry that it makes for such a friendly place to start"
Tell us how you went about applying for your job. There were a lot of great companies in the food & drink space with some wicked opportunities – but this one just seemed to fit like a glass slipper. It was three interviews long, all really friendly meetings with straight-up questions and a casual vibe – great for two directional assessments of character/opportunity.
The usually clichéd presenting task was flipped on its head a bit as I had to present a hobby – to which I chose experimental cooking with bits from the 'reduced' aisle. It practically became second nature to scavenge the shop for those little golden steals in the build-up to student loan payout week (13p for a pack of peppers? Yes please).
Other interview tasks I've come up against have included P&L planning, rough forecasting, and new business POAs. However, Piccolo's process was well-rounded and one that I'm sure I'll be using myself later down the line. With an open chat about strengths and what could use fine-tuning, my inception into Piccolo was hands-on & great fun from the get-go, as it was at my last job – I've been lucky.
What's the best part about working for a food company? It would be twofold for me: growth opportunities and day-to-day enjoyment. In terms of growth, my current role is unrivalled in the exposure it has given me, and I've got to thank my team for valuing ambition above age in that sense. The challenger brand side of food & drink is an industry without a syllabus and it's that attitude of creative freedom that makes it such an enjoyable area to work in. The workload stays fresh and morale is kept high in camp.
As for day-to-day enjoyment, it's all about the people. Between everyone at Piccolo, my old team at Ape Snacks, and others I've met in the industry, I've met some brilliant people who've given me an insight into what success looks like and help in achieving it. I'd say the power of youth is so prominent within this industry that it makes for such a friendly place to start and continue to develop, personally and professionally. The other pro is being so close to the latest trends within food; it's so interesting to work alongside people who are so heavily opinionated on food – both the good and the bushtucker trial worthy.
And what's the biggest misconception people have about working in food & drink? I don't think a lot of people fully appreciate the processes and planning that are at play behind all the branded food and drink we buy in the shops – I certainly didn't. The labour-intensive process of getting food manufactured, shipped to UK storage, into shops, then into our hands is a well-oiled machine and there are way more challenges and risks than you'd expect. I whole-heartedly take my hat off to any founders out there that manage to do it all single-handedly because there are a lot of moving parts.
What advice would you give to other young people looking to get into the food & drink industry? Dive in the deep end and get amongst it. Ask to do more, be taught more, get shown more and there will always be friendly people around to help you cash in on the wins. As long as you're tackling challenges head-on, with high energy levels and a smile on your face, it's an industry you'll do very well in. There's such a wide variety of jobs, suitable for all kinds of personality types and different working styles.
Equally, small company dynamics are so flexible that the working norm is constantly changing and growing to suit the team. Casting my mind back to life post-uni, it was a very hazy feeling of 'I don't have a scooby what I want to do now, in 10 years, or in 40 years'. My advice to that Ethan would be: it doesn't matter what the first step is, everything will be beneficial if you take on whatever tasks are thrown at you. The food and drink world will tee you up with transferrable skills and a lot of competitive progression opportunities, so it's a perfect starting point.
What is your ultimate career dream? Aside from my lifelong dream of being a Ben & Jerry's product tester, my ultimate career goal would be leading a fun, high-energy company full of people who love to be there, creating high-quality, sustainable products. At the end of the day, if I'm laughing and learning, I'll be content.