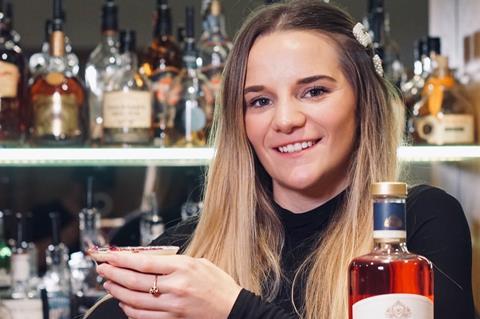 Name: Freya Barratt
Age: 24
Job title: Brand & marketing executive
Company & location: Lanique Spirit of Rose, London Bridge
Education: BA in Sport and Social Sciences, University of Bath and MA in Brands, Communication and Culture, Goldsmiths University of London
Why did you decide to go for a career in food? Whilst at uni I had an array of jobs from being a PT to a ski instructor and working as a nanny – I knew all of these were great but temporary. Just as I was starting my masters whilst working as a marketing intern, I discovered the world of spirits from the other side of the bottle. All of a sudden, I was fascinated by brand stories, the battleground of the back bar and supermarket spirit aisle, and I found my new passion and career path. Haven't looked back since.
Explain your job to us in a sentence (or two): I am responsible for brand image and marketing, implementing both strategic and creative direction. In reality that means everything from arranging promotions and PoS right through to activations alongside the strategy that ties all this together.
What does a typical day look like for you? We are very much shaped by the startup mentality. As such, every day can start in a variety of ways. If I'm based in Lanique HQ then I will have my morning coffee and start my long list of tasks, which ranges from organising partnerships, building creative content and building new routes to market. If I'm not in London, Liverpool, Edinburgh or Jersey for example, I am normally either running an event, helping with creative direction on a photoshoot or sampling Lanique to consumers. It's cliché but true: no day is the same, and part of the excitement is balancing all these different elements to help grow the brand!
Tell us about how you went about applying for your job. I knew about Lanique from attending Imbibe live, so when it came to me pursuing a career in the spirits industry, I sent a speculative email. To my delight I was responded to within eight hours, interviewed later that week over breakfast and now here I am. No tough questions per se, but I certainly felt they wanted to know I had a grasp of what the brand stood for, alongside a sense of its potential future direction.
"If you don't 100% believe in the brand you work for then you're not going to have a great time"
What's the best part about working for a food company? For me it's the people and the excitement, I absolutely love talking to consumers as well as people in the industry. Everyone has a passion for what they do and not only is it inspiring, it's energising. It's an added bonus being able to be behind a brand and bring it to consumers – positive responses are what really motivates me.
And what's the biggest misconception people have about working in food & drink? That we play harder than we work. Yes, we do tend to all like a tipple here and there, but this industry requires a lot of hard work and perseverance. It is competitive for brands and extremely competitive for people, you have to be resilient and a hard worker.
What advice would you give to other young people looking to get into the food & drink industry? Be versatile but be yourself – don't take any job in the industry just because it's a job. If you don't 100% believe in the brand you work for then you're not going to have a great time. Be patient and decide what area you really want to go into, and take little steps in getting there. From reading around the area to getting specific qualifications, I promise, you will eventually get a job you are genuinely passionate about.
What's your ultimate career dream? Ultimately, I want to become a marketing specialist in spirits. One thing I love most about Lanique is that we are establishing a new back bar category – playing a part in that is a super exciting legacy. Beyond that I want to continue this journey and keep ahead of the trends in order to repeatedly innovate and disrupt – if I can be part of owning new occasions or tapping into unmet consumer needs, I believe that will be hugely rewarding. In short if I am still doing the same thing next year something has gone wrong – expect even bigger and better things from Lanique in 2020 and beyond.