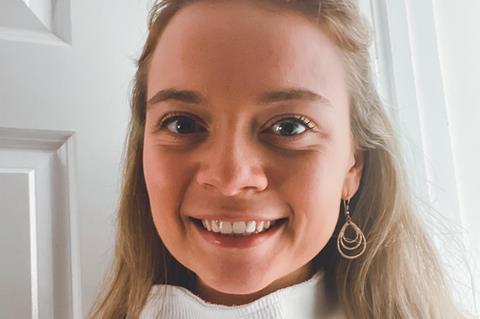 Name: Gemma Ladkin
Age: 23
Job title: UK sales executive
Company & location: Fiid, London
Education: Business Management (Marketing) BSc, Cardiff University
Why did you decide to go for a career in food? Food has always been a central point in my home growing up. I have always loved the way it brings people together. I cook a lot myself at home and actually run a popular Instagram page called Tasty Gems where I create and post recipes. I can pretty much talk about food all day every day. For me it was an almost automatic decision to start a career within the food industry. Having a passion for food and cooking surely is critical to success in the industry.
Explain your job to us in a sentence (or two): My role at Fiid is to grow our listings in the UK market with retailers Fiid would sell very well in. Along with this account management of our UK listings is key to maintaining a strong ROS within the UK, which is a fairly new market for Fiid.
What does a typical day look like for you? A typical day could consist of either being out and about meeting existing retailers or potential new ones, planning upcoming promotions, researching potential new retailers but most importantly making sure sales are being made and goals are being met. Planning ahead to ensure future months' sales targets are planned for is essential. This could involve getting new PoS designed, working with our wholesalers to promote our products for particular months or launching NPD to boost sales. Whole Foods Market is an important retailer I look after so ensuring we are performing our best there is very important.
"Having a passion for food and cooking surely is critical to success in the industry"
Tell us about how you went about applying for your job. I sent over my CV to Young Foodies. I was picked up by the team and guided through my application to the sales role at Fiid. The team there was so helpful. There were three stages: an initial interview with our head of people and then an interview with the founder, followed by a task I had to present to the founder, head of people and sales manager.
What's the best part about working for a food company? The free food? Only joking. I would say having a passion behind the product I am selling makes me enjoy my role so much. Good food should taste delicious, hold strong nutritious value and be super easy to put together. Fiid delivers on all of this and more. Working for a company where I didn't believe in the product would just not work for me but working within a food company like Fiid makes my role much more enjoyable.
And what's the biggest misconception people have about working in food & drink? It's all just fun and games and easy work. Working within an fmcg is fast-paced and requires people who are self starters. Often I think people see people working within food and drink as living a laid back, chilled working life, but the reality is quite different, particularly in a startup. A lot of work needs to be done and quickly but I think that's what makes it such an exciting industry to be working in.
What advice would you give to other young people looking to get into the food & drink industry? Work out which role you think you would enjoy the most. Working within the food industry is great but having a role you think you will be good at and enjoy is still very important.
Work for a company you admire. Working for Fiid among such talented and dynamic individuals makes my job so enjoyable. Shane our founder built up Fiid into what it is today which is greatly admirable. He cares about his people's wellbeing and always ensures we are given the advice and resources to be able to succeed within the company.
What's your ultimate career dream? I would love to eventually start up a business of my own but until then I want to have contributed to the growth of Fiid, which I am confident will be a huge success, and feel proud of what I have learnt and what we have achieved as a company.