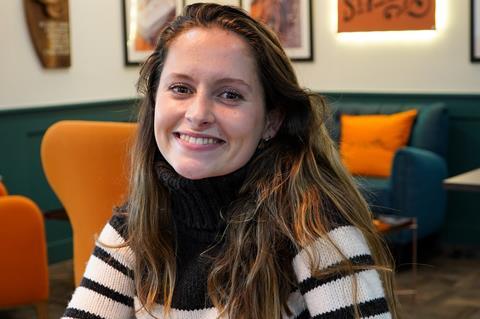 Name: Grace Hulme
Age: 23
Job title: Marketing executive for St Pierre US
Company: St Pierre Groupe
Education: Newcastle University, History
Why did you decide to go for a career in food? It's fair to say that the past 12 months have been particularly daunting for graduates, but the food industry continues to grow at pace. I was looking to work in a space that is dynamic, and the food industry is constantly changing, which is so exciting. The fact that I love food helps, too.
Explain your job to us in a sentence (or two): I'm a marketing executive for St Pierre, but on the US side of the brand. It's the number one brioche brand in America and it's growing at a phenomenal rate, so I'm kept very busy working across lots of different marketing channels and supporting the brand team. I am responsible for brand partnerships, managing the US social channels and creating content. I also support the commercial team around events which have so far been virtual, but I can't wait for my first in-person international trade show!
What does a typical day look like for you? I bet everyone says this, but honestly, every day is different and that's one of the reasons I love my job! Some days I will dedicate to researching and trying to get to grips with just how big America is. There's so much opportunity and right now we're working to harness that from Manchester which brings its own challenges. Other days I'll be managing photography for various marketing materials but really, I'm on hand to help with anything that comes up – and usually something does!
Tell us about how you went about applying for this job? I was coming up to the end of my degree and researching companies that were hiring. St Pierre Groupe was looking for a marketing graduate as part of its team expansion and I jumped straight on it. After that, it all happened very quickly. My first interview was an hour after I finished my final university exam, which likely helped – I was so happy to have finished my exams, I forgot to be nervous about the job interview! My interviews (there were two) were carried out via Microsoft Teams, but even just a virtual meeting and the hiring process told me that the ethos and culture of company was a good fit for me.
"I've seen first-hand how consumers are turning to e-commerce platforms to simplify shopping"
What's the best part about working for a food company? The endless supply of snacks and samples around the office, although my waistline might disagree. On a serious note, I love how quickly this industry moves. The shift in consumer behaviour due to Covid-19 has kept everyone on their toes, but it's amazing to be able to be so agile – especially in a business of this size.
Managing the Instacart account, I've seen first-hand how consumers are turning to e-commerce platforms to simplify shopping. In the last 12 months 35 million Americans bought groceries online for the first time; a large part of our success is down to being able to respond quickly and I'm so excited to have been a part of that.
And what's the biggest misconception people have about working in food & drink? As consumers, we buy what we want when we want it. Shopping online or in-store really doesn't do justice to the incredible amount of work that goes on behind the scenes in order to get a product – especially a branded product – on shelf. It's much more complex than I had ever imagined.
What advice would you give to other people looking to get into the food & drink industry? It's a bit of a cliché but there's no such thing as a stupid question. I've learnt not to feel embarrassed when I don't know something or don't understand. Asking questions is the best way to learn.
What is your ultimate career dream? I'm really proud to work on the St Pierre brand – especially on the US side. I cannot quite believe my first 'proper' job is so interesting and exciting! I've got so much to learn, so for right now my goal is to build my knowledge and expand my skills in all areas of marketing. I'm fortunate that I have a supportive and hugely experienced team around me who are invested in my professional growth. Ultimately, I'd like to progress to a brand manager role eventually, but I'm going to have fun learning the ropes first!