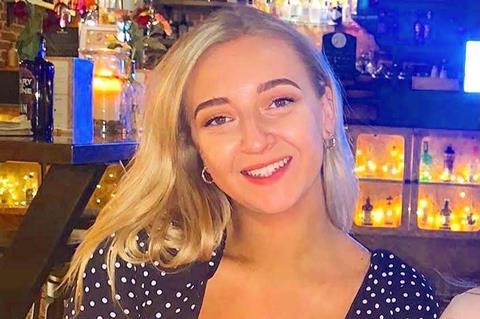 Name: Grace Sargent
Age: 23
Job title: NPD technologist
Company & location: Gosh Food, Milton Keynes
Education: I attended King Edward VI Five Ways, Birmingham, for secondary school and sixth form, and it was here that my love of food science began. I then took a gap year, during which I taught English to secondary school students in Kanchanaburi in Thailand. It was an amazing opportunity and also gave me the chance to try lots of amazing, fresh new foods. After that, I went on to attend the University of Northumbria for a four-year course in Food Science & Nutrition, with a year in industry at Greencore Northampton.
Why did you decide to go for a career in food? I have always had a real passion for food; some of my earliest memories are helping my mom in the kitchen at home. She always made such an effort to get both my brother and I involved in whatever she was doing, from chopping to mixing, she wanted us to be confident in being in the kitchen. It wasn't until I joined secondary school and began food technology classes that I realised how little some of my peers knew in terms of basic kitchen skills. This realisation really hit home with me; how important these basic skills are and what an integral role food plays in our lives.
I was extremely lucky in the fact my teacher, Mrs Turner, was an ex-product technologist in the food industry, which opened my eyes to a whole new side of food technology. Mrs Turner would focus heavily on the 'science behind food science' and believed that the days of home economics were gone. She taught us that there were so many potential careers in food, rather than just becoming a chef. Without her influence, I would never have discovered the world of NPD. From her contacts within the industry, I was able to complete my first ever placement at age 16, spending a week in Bath at Cereal Partners, with their R&D team. This week gave me the confidence to approach other companies within the industry, leading to me having multiple placements at different companies within varying sectors of the food industry.
Explain your job to us in a sentence (or two): As an NPD technologist I work on the large-scale manufacture of food products. This involves producing samples and assisting the process technologists in creating innovative procedures that will enable our tasty products to be made in large quantities, while still looking and tasting great. This scale-up of recipes to factory level from the NPD kitchen, could vary from working to improve existing recipes or helping with the invention of brand new ones.
Very often I will work alongside development chefs to produce or amend kitchen samples into recipes that can be easily produced in large volume. And of course, all of this must be done within a strict and ever-changing regulatory framework around the treatment of foodstuffs. At Gosh we are 14 allergens-free, gluten-free, vegan and kosher, and we pride ourselves on making our products with 100% natural ingredients.
"There is a strong undercurrent of needing to understand the science behind the food, and why it is behaving the way it is"
What does a typical day look like for you? The great thing about an NPD technologist role is that there isn't really an 'average' day! You're always on your toes and I love that no two days are the same. Throughout the week, I might be involved in several different stages of product development.
One day I might be selecting raw materials and other ingredients from suppliers and the next I'll draw up product specifications to make sure what we're developing can be manufactured safely and profitably. I also continually research markets and technologies to develop new product concepts.
I also help co-ordinate product launches and work with colleagues across the business to ensure products will have a successful launch and manufacturing life. It really is very varied.
Tell us about how you went about applying for your job. I was very lucky (especially during the current Covid job climate) that previous colleagues from my placement at Greencore were keeping an eye on any job openings for me, in addition to me trawling the web!
After a couple of fruitless months, my ex-manager sent me this job post from LinkedIn. I hadn't actually set myself up on LinkedIn at this point, but it is something that now I would 100% recommend to any new graduates. Lots of companies (including Gosh) are now advertising directly through LinkedIn rather than traditional job websites. It was a two-stage interview process, with the first interview being on Zoom, with questions regarding my experience and just explaining a bit about me! In the second interview, I visited the site and presented two products I had developed from a brief and took the team through the full development cycle. After my presentation I was then given a tour around the factory.
What's the best part about working for a food company? Personally, I love being hands-on in my role, whether that's in the NPD kitchen working on blue sky ideas and new product launches, or down in the factory assisting with trials.
Although the factory trials offer their own unique set of challenges, I enjoy the problem-solving that goes into it and love getting to see a project you have worked hard on, running down the production line as a product in real life.
And what's the biggest misconception people have about working in food & drink? There is so much more that goes into food production and manufacturing than just coming up with the recipe. You have to have multiple different 'hats' depending on the situation and there is a strong undercurrent of needing to understand the science behind the food, and why it is behaving the way it is – especially when producing on scale.
Your daily tasks can change so drastically at a moment's notice so you need to be flexible in your thinking and approach to tasks. You're not always stuck in kitchens playing chef: the food industry is so vast, one day you can be presenting to customers, going on product discovery safaris, and the next you are wrapped up warm conducting back-to-back factory trials!
What advice would you give to other young people looking to get into the food & drink industry? Don't be afraid to throw yourself into it! It is a fast-paced work environment that's constantly changing: you will learn so much, so quickly, if you just dive into the deep end. You'll learn the most by getting in-person experience within and around food manufacturing sites; of course it's necessary to have the theoretical knowledge, however the real skills will be developed on site and whilst you are putting that theoretical knowledge into practice.
There's an increased number of apprenticeships and part-time degrees now that food manufacturers offer that get you that on-site time for practical development whilst combining a degree in food science as well – so it's the best of both worlds! In addition to these courses, most universities offer a sandwich degree (which I did) that offers a 12-month placement in your third year. I'd wholeheartedly encourage everyone completing a food degree to do a placement as it allows you to apply your theoretical knowledge but also gives you some real manufacturing/industry scenarios to assist your learning in final year.
What's your ultimate career dream? I would love to travel the world more with work and expand my food knowledge across more cultures and be able to bring the food trends I observe back to the UK to develop and broaden the consumer's foodie horizons!