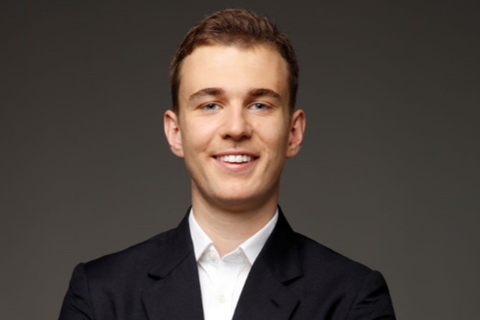 Name: Hal Atkinson
Age: 23
Job title: Marketing executive
Company & location: Bells of Lazonby, Lazonby, Cumbria
Education: University of Leeds studying Biological Sciences with Biotechnology and Enterprise
Why did you decide to go for a career in food? Well, I had previously worked in a marketing function of one of the world's largest pharmaceutical companies, during a year-long university placement. Despite finding this hugely valuable and enjoyable at the time, because of the highly stringent (and needed) regulations surrounding the industry I felt there wasn't quite enough room to get creative with my work. I don't think there's any way to change this, it's just how the industry needs to operate to protect patients. For a long-term career I wanted to work in an environment which was immersed in innovative ideas and products so I can be involved in some boundary-pushing marketing strategies that have full creative licence.
After finishing university I wanted to move back home to save some money and go travelling. I knew Bells of Lazonby was a great local business to work for and they were looking to expand their marketing team, so I leapt at the opportunity as I thought the food and drink industry would be a great way to develop my marketing knowledge past what I already knew and get stuck into some exciting direct-to-consumer activities.
Explain your job to us in a sentence (or two): Working alongside our head of brand to contribute to and execute the marketing strategy of our branded portfolio.
What does a typical day look like for you? Typically, I get into the office around 8am. Firstly, I go through our branded mailboxes to check for any enquiries from the public about our branded products. After that it's completely varied really, I look after our social media accounts so I have been doing a lot of photography shoots recently. Our brands cover both foodservice and retail so I help support or lead a wide variety of marketing activities such as magazine ads or online influencer activation. I also have the opportunity to get involved with more boots-on-the-ground work such as going to exhibitions or sampling our products.
"My role is very diverse and has a great level of integration with other business functions and departments"
Due to the independent and culture-focused nature of the business, my role is very diverse and has a great level of integration with other business functions and departments. This has allowed me to work on many other projects that extend into the wider business, such as leading the launch of products from ideation as well as an exciting sustainable packaging project I hope to bring into market early next year.
Tell us about how you went about applying for your job. I applied through the company website. I was then invited for an interview which centred around the role itself, with the usual questions you'd expect concerning my suitability for the role. I think in terms of trickier questions, there were some which focused how I would achieve certain goals for the brands or products.
After that I had to give a presentation on the rise of veganism, which was highly topical for our Bells & Whistles brand. Having a science background did help with this as many of the environmental and health drivers of veganism I was already acutely aware of.
What's the best part about working for a food company? I would say the amount of free samples we get, but that's actually a bit of a curse sometimes when you have no self-restraint. So I'd say that it's probably the diversity of brands in the industry. Everyone is doing things differently so it's really interesting to see what is working well for people and what's working not so well.
What advice would you give to other young people looking to get into the food & drink industry? As a broad bit of advice applicable to any role, I'd probably say understand the market, recent trends and most importantly, show a passion for food and drink. I guess that's a generic piece of advice but not everyone really cares about the taste, flavour and craft that goes into food and drink products so if that's you, make sure you show it to whoever is interviewing you or reviewing your applications.
What's your ultimate career dream? I am not completely sure yet if I'm honest. I have a passion for sustainability, so I think working in a marketing agency or consultancy that helps businesses achieve growth in a way that's better for people and the planet is something I'd be interested in. The food and drink industry has a key role to play in a sustainable future so I think developing my understanding of this sector and the challenges it faces will be very useful further down the line.