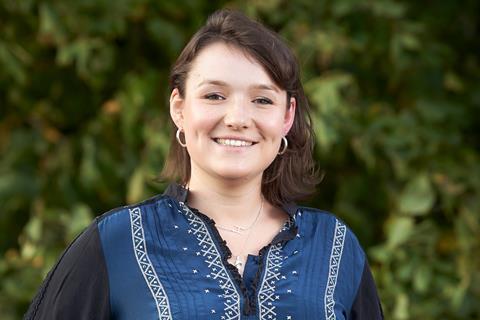 Name: Hebe Howorth
Age: 24
Job Title: Seedlip & Æcorn UK brand engagement executive
Company: Seedlip Drinks, Beaconsfield
Education: International Hospitality Management BSc (Hons) at Oxford Brookes University
Why did you decide to go for a career in food? I have always been passionate about global food & drink cultures and trends. Growing up I was lucky enough to live part-time in the Far East where I regularly got to experience varied and exotic cuisines. After leaving school I applied for the international hospitality degree at Oxford Brookes University, which is one of the leading courses of its kind. It was perfect for someone like me who wanted to mix my personal interests with further education and the opportunity to experience different areas of the industry – not just hospitality.
Explain your job to us in a sentence (or two): Our brand mission at Seedlip & Æcorn is 'to change the way the world drinks'. My role within this is to help our brands connect with consumers, communicating the passion, expertise, care and nature that goes into all of our products.
What does a typical day look like for you? I always start my day with a 30-minute audit of the media agenda – what are the breaking news headlines, what is trending on social media, what is happening in the natural world. I may then need to strategise and react to a certain issue, or I will use the day to focus on existing projects. For example, I'm currently working with the brand team on our plans and new launches for the holiday and Christmas season. I have to say that almost every day is different for me, and I love being part of an agile, fast-paced and innovative team, as it means I get wide exposure to so many different areas and projects within the business.
"It's really exciting to be part of a company charting new waters"
Tell us how you went about applying for your job. My story is quite unusual as I started working for Seedlip whilst at university. They were advertising for people to join the team part-time to help them sample Seedlip & Tonic to consumers. Within 10 minutes of the advert going up I applied! I got the job and started in their sampling team, with a job at a local garden centre. It was an incredible experience to learn everything about the brand story, the ingredients and the occasion.
In my final year of university Seedlip were recruiting for an intern to join the events team – I took this position in my summer holiday. That summer was so much fun; one day I was making a 'NOgroni' for Raymond Blanc at the 100 Best Restaurant Awards and the next day I was pushing our trusty Seedlip Bedford van, Betsy, out of the mud at Taste Food Festival.
It was a wonderful experience working at such a young and dynamic brand with people who are all so passionate about what they do. When I went back to university to finish my final year, I knew I wanted to go back and work full-time at Seedlip after I graduated. I wrote a very long letter to Seedlip's founder Ben Branson and COO Emma Wykes and pitched to them why they should create a role for me. Hey presto! I was hired in summer 2019 as brand engagement executive for Seedlip & Æcorn.
What's the best part about working for a food company? For me, the best part about working for Seedlip & Æcorn is our clear mission, the innovation, creativity and inspiration we draw from the natural world. It's really exciting to be part of a company charting new waters.
And what's the biggest misconception people have about working in food & drink? I think the biggest misconception is that's it not as challenging as other industries. I'm happy to take anyone for a Seedlip cocktail who can prove me wrong!
What advice would you give to other young people looking to get into the food & drink industry? My two pieces of key advice are:
1. Spend some time working in the hospitality industry. It is one of the toughest industries for a reason but the skills, insight and empathy you take away from that experience are worth it and are relevant in any career.
2. Never be afraid to ask. This advice can range from asking a brand you like the look of if they have any potential roles available or asking someone your know in the industry or even via LinkedIn if they could introduce you to someone who might be able to give you some advice. Overall my perception of people who have worked in the food and beverage sector for a long time is that they all want to help out the younger generation to get a foot in the door. You only have to ask!
What's your ultimate career dream? This changes daily! At the moment I would love to set up my own brand in food and beverage which really challenges the industry, mirroring what Ben Branson did with Seedlip.