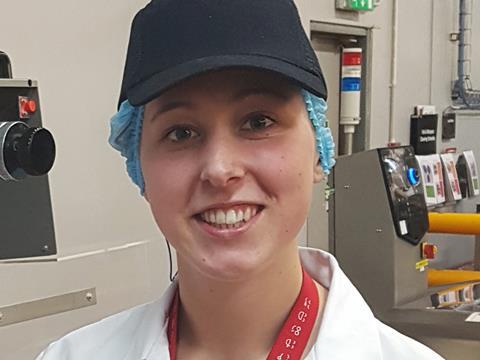 Name: Isabel Hardisty
Age: 23
Job title: Team Manager (Graduate Engineer)
Company: Pladis, Wigston, Leicester
Education: Chemical Engineering (Meng), University of Manchester
Why did you decide to go for a career in food?
The food industry is one of the most diverse and yet relatable to the public.
I have always been interested in how everyday products are made and understanding all the processes that go into putting a product on the shelf – I can spend a long time in a supermarket! The food industry is one of the most diverse and yet relatable to the public. A year working in the food industry during my degree confirmed my interest and focused my future as a graduate to the food industry.
Explain your job to us in a sentence (or two):
I am responsible for the performance of six production lines covering a range of biscuit and chocolate products.
What does a typical day look like for you?
As a team manager, every day is different. I must ensure the line is set up for the day's production, report back on the previous day's production, organise labour and resolve any issues as they are presented. The aim of each day is to produce quality biscuits efficiently and safely whilst seeking out future opportunities to increase the potential of the zone.
Tell us about how you went about applying for your job. What was the process like?
I applied for the Engineering Graduate scheme during my final year at university. There were four stages to the process; an initial questionnaire, online logic/numerical tests, a video interview and then the final assessment centre. I particularly remember thinking how at ease I felt during the assessment centre.
What's the best part about working for a food company?
I really enjoy seeing products that have been produced within my zone on shelves across the country.
The food industry has such unique and unexpected challenges that you wouldn't suspect from outside the industry. For example, in a McVitie's Victoria Assortment some biscuits will have been through up to three processes before they make it into the box: from baking to chocolate enrobing, creaming and foiling. There is so much to consider, which makes the food industry a complex and exciting place to work!
I really enjoy seeing products that have been produced within my zone on shelves across the country. Working closely with products that have such a wide reach is very rewarding.
And what's the biggest misconception people have about working in food & drink?
The food and drink industry is rarely covered whilst studying engineering because it is more difficult to translate the theory from classroom to industry. This creates the misconception that engineers are not required in the food and drink industry. This is not true and in fact I know engineers at Pladis working in R&D, Supply Chain, Manufacturing and Compliance functions as well as Engineering.
What advice would you give to other young people looking to get into the food & drink industry?
Try as many different roles/functions as possible
Firstly, consider all routes into the industry: there are great apprenticeship schemes, industry years and graduate schemes available. Secondly, I would advise to try as many different roles/functions as possible because this allows you to learn about the company and industry from different perspectives. My graduate scheme is composed of three eight-month placements. On my second placement now I have already worked in both engineering and manufacturing functions.
What's your ultimate career dream?
At this point in my career I am enjoying learning all aspects of a food company by rotating between functions. There are so many opportunities available in the food industry and I am looking forward to getting stuck in and gaining as much experience as I can. Simply my goal is to fulfil my potential and I'm excited to see where this will take me.