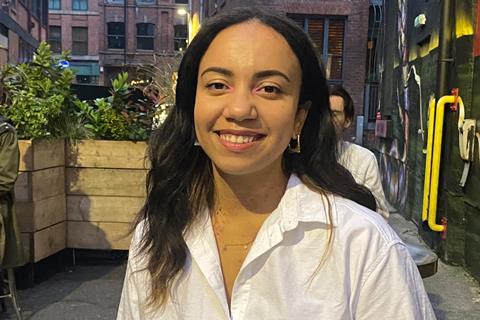 Name: Jade Warne
Age: 23
Job title: Marketing assistant
Company & location: Didsbury Gin / Arlu Rum – Alderman's Drinks
Education: I studied in Cambridge and then moved up north to study English Literature at the University of Manchester. I soon realised it wasn't for me, and left at the start of the Covid pandemic.
Before I formally withdrew, I began applying for jobs in marketing. I then landed on the Level 3 junior content producer qualification at The Juice Academy, a company offering social media apprenticeships. That's when I started my role at Didsbury Gin.
Why did you decide to go for a career in the drinks industry? I knew I wanted to be involved in consumer goods, but I've got a real passion for great flavours and making them look good, so food and drink stood out to me.
Spirits and gin specifically appealed because of how wildly popular they've become over the last few years. It's an exciting, constantly evolving industry to be in, so I'm glad I went with it.
Explain your job to us in a sentence (or two): I support the head of marketing, largely on the digital side of marketing. I look after our social media, blogs, email campaigns and some of the graphic design. I also help out with some wider marketing bits like assisting promotional activities and copywriting.
What does a typical day look like for you? I spend a lot of time either creating, scheduling or posting content. It's my job to maintain our brand presence and engage consumers, while effectively showcasing the brand.
I work closely with my manager on wider marketing activities such as event planning and market research. Then, I report monthly on campaign success so our customers and internal team can stay up to date with what we're doing and why.
One of my favourite parts is going out to bars/restaurants/shops that stock our products to get photos of what they're serving to share. Often this means I get to try a lot of exciting new cocktails and meet other people who are passionate about delicious drinks, which is always enjoyable.
"Companies need young voices and opinions to connect with a new audience"
Tell us how you went about applying for your job. I joined through an apprenticeship with the Juice Academy for a junior content producer qualification. A few great Manchester-based companies were hiring, but Didsbury Gin was the one I really wanted.
I initially had to send in a short video clip of myself explaining why I wanted to go into digital marketing, and through that I secured an interview. The final stage was to come up with a photo that made any product look good, as well as a short caption to go along with it. I took a photo of shakshuka (my favourite recipe to create) and made it look as delicious as possible. It worked and I got the job.
One year after that, before I'd even received my grades back, I was offered a promotion to marketing assistant – so it's gone quite well since being hired!
What's the best part about working for a drinks company? The best part is probably the people. The spirits industry is full of big personalities so it's filled with fun and laughter. Drinking is designed to be fun, so my work is centred around encouraging people to have a good time (responsibly of course!), which makes what I do all the more enjoyable.
At Didsbury Gin specifically, we have a great team and I'm offered plenty of opportunities to learn and grow. I feel quite lucky to have found a team that truly cares about this.
And what's the biggest misconception people have about working in food & drink? For me, it's probably that all I do is drink gin! Sadly, this is not at all the case. There's a lot more work that goes on behind the scenes before the final product is presented to the world and I don't think a lot of people realise this.
The journey a bottle of gin takes from being an idea to being on a store shelf often takes months. The whole team has to chip in and from my experience it's rarely a smooth journey. I've learnt to triple check everything I do to avoid expensive mistakes, so it's not all fun and games. But it does make it all the more satisfying to shout about at the final stages, because then we know all the hard work was worth it.
What advice would you give to other young people looking to get into the food & drink industry? Being the young one is never a bad thing. Companies need young voices and opinions to connect with a new audience. Don't be afraid to speak up!
That being said, remember that you're learning and while your voice and opinions are important to your employer, you have a lot of experience to gain. Absorb every last bit of information you can, and you'll grow in ways you never thought possible.
What's your ultimate career dream? Truthfully, my idea of the ultimate career is ever-changing. What I do know though is I'm eager to continue growing and learning and hopefully to end up in a role where I manage a team. Wherever that is, I'll be happy as long as I get to continue having as much fun with my role as I am now!