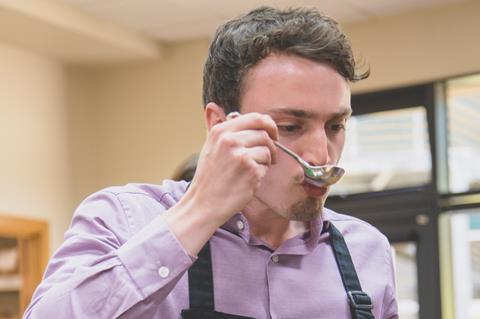 Name: Jamie Cashmore
Age: 25
Job title: Green coffee technician
Company & location: Taylors of Harrogate – Harrogate, UK
Education: University College Birmingham. Firstly training to be a chef, then a degree in food and consumer management
Why did you decide to go for a career in food and drink? I've always been passionate about everything food and drink, thanks to my grandmother and her love for food. From a young age I was in the kitchen helping, cooking and trying new things. When I finished school there was never any worry about what I was going to do next, as I always wanted to be doing something within the food and drink industry.
After leaving school I started training as a chef, which only made my passion for the industry stronger. Once qualified I realised I wanted to understand more about the industry, and to be more involved. I therefore embarked on a degree in food and consumer management.
Whilst in my final year I focused many of my projects, including my dissertation, around coffee, the supply chain and the processes. I met with various people in the industry, attended industry events and from then on, I knew my future was in coffee.
Explain your job to us in a sentence (or two): As a green coffee technician, roasting and tasting coffee forms a large part of my day. This is to ensure all the coffee we buy is up to our high standards from harvesting through to being roasted here in Harrogate, before it hits the shelves in the supermarket.
What does a typical day look like for you? First things first – as soon as I get into the office the coffee goes on and I drink my first cup of the day! Then it's straight into tasting the coffee that has been roasted in the factory the day before. We taste every roast before it leaves site to ensure it meets our quality standards – this is usually around 70 cups.
Then I catch up on some admin. This could be communicating with our suppliers on how their coffee is tasting or talking to our production team about a particular query or challenge.
The rest of the day is spent tasting. Every afternoon I do an in-depth tasting with the coffee buyers, where we collectively taste and grade two to seven coffees at a time. We're fortunate to have five qualified 'Q Graders' within the Taylors coffee team, experts who have passed the highest-profile qualification for a coffee buyer. I'm currently preparing for the six-day examination to become a Q Grader myself, so time spent tasting with the rest of the team is always invaluable.
I also do lots of roasting and visual assessments of samples as our coffee arrives raw (green coffee) – looking for defects and recording the size of the coffee beans. This is all important data that not only helps us with roasting but also to feed back to our suppliers so they can use this for improvements at farm level.
Tell us about how you went about applying for your job. As I was finishing university, I was looking daily for opportunities in the coffee industry and contacting every coffee business I wanted to work for. As leaders in roast and ground coffee, Taylors was high up on the list!
Luckily for me this job came up and I quickly applied with my CV and covering letter. I was then invited for interview, which had three different stages: a formal interview, an Excel test and tasting with the coffee buying manager. A week later I was invited back to meet the team and after that I was offered the job.
"Trainees will spend a lot of their time in the tasting room, sampling up to 250 cups a day"
What is the process to train up to become a coffee buyer at Taylors? There's an extensive training process to become a fully-fledged coffee buyer at Taylors, which can take up to three years.
New trainees spend two years at our roastery in Harrogate, learning the ropes under the mentorship of a coffee buyer. Tasting is a big part of this and trainees will spend a lot of their time in the tasting room, sampling up to 250 cups a day.
Then comes a period of overseas training where a trainee buyer spends up to six months in coffee-producing countries. At Taylors, our supplier relationships are very important to us. Our buying team spend a lot of time visiting farms and farmers in Latin America, east Africa and Asia, so the first trip is an important one to understand the journey of our product and spend time with farmers learning about the countries and cultures that grow the coffee we buy.
After two or three years of tasting, learning and spending time at origin, it's now time to start completing Q Grader qualifications. This includes exams on green (raw) coffee, roasting and tasting. It's a tasting exam that pushes participants to their limits through 19 sensory exams over six days. All 19 must be passed to become a Q-Grader.
What's the best part about working for a food and drink company? Firstly, access to amazing coffee, all day every day, from all around the world. Secondly, everyone I work with is passionate about what they do and it's the same for the whole industry, which is what makes it so special.
And what's the biggest misconception people have about working in food and drink? People's understanding of the steps and processes that take place before food and drink products hit the supermarket. Frequently when I explain my job to people they are fascinated by how much work and dedication goes on behind the scenes to ensure they receive the best product possible.
What advice would you give to other young people looking to get into the food and drink industry? Make sure you learn as much as you can about the sector you want to work in. Read books, reach out, meet people in the sector, so you get an even better insight into how it works, and if possible attend industry events. This will put you ahead of many of the others you will be up against for your dream job!
What's your ultimate career dream? To become as knowledgeable and experienced in coffee as I can, and to be in a job that I love.