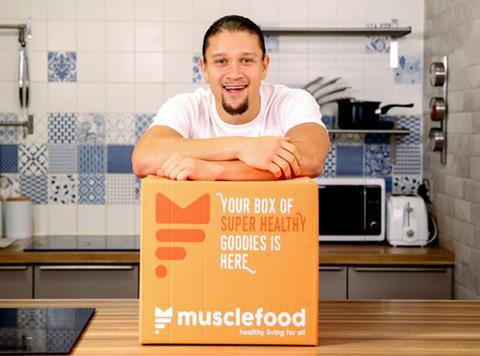 Name: Josh Gooding
Age: 25
Job title: NPD project manager
Company & location: Musclefood.com, Nottingham
Education: Nottingham Trent University, sport & exercise sciences
Why did you decide to go for a career in food? Food and boxing are my life. Fuelling myself with nutritious meals is important as an athlete – but so is great-tasting food. After working in academia, I decided to move into the food industry because I wanted to help create food products that are nutritionally dense but still taste great. This is what I get to do every day at Musclefood.
Explain your job to us in a sentence (or two): I help to make your favourite-tasting foods healthy.
What does a typical day look like for you? A typical day starts with the team brainstorming as many unhealthy foods we can think of – from cookie dough and kebabs to pizzas and favourite takeaway dishes. We then start thinking how we can make these products healthier.
As a team we select a number of projects, then I start the background research on my projects. I identify a base recipe and work with our development chef to create a healthy version. Then the best bit… the taste test. A little bit of admin work has to be done throughout the day, then we work with the compliance, manufacturing and marketing teams to bring the product to life.
Tell us about how you went about applying for your job. There were two stages – a phone interview and then presentation-style interview. I had to evaluate and present on the protein bar market, and then develop a protein bar that met the gaps in the market.
One of the hardest questions was probably: "What ingredient would you use to substitute artificial sweeteners? And why?" The low-sugar market is booming but this means the sweetener market is also booming. However, sweeteners – just like sugar – have been shown to damage gut health. I showed my knowledge of the market then addressed the question with light food science-based answers – but I can't share all of my secrets!
"The biggest misconception would have to be that eating healthy can't possibly be fun and enjoyable"
What's the best part about working for a food company? This one's easy – tasting all the food! Though it does become problematic when making weight for competitions as we develop a lot of great-tasting food at Musclefood and I'd happily munch through it all!
And what's the biggest misconception people have about working in food & drink? Times are changing and we at Musclefood are trying hard to change common misconceptions – but the biggest would have to be that eating healthy can't possibly be fun and enjoyable. The products that our NPD team have developed, such as piri piri platters, high-protein flapjacks, kebab kits and high-protein pizzas, just go to prove this.
What advice would you give to other young people looking to get into the food & drink industry? Spot trends early. Keep up to date with emerging academic research as they soon turn into dietary trends. For example, from 2010 to 2014 there was a heavy research push on the effects of gut health on metabolism. In 2017, research on the benefits of gut health hit the media. Come 2018, thousands of gut health products hit the market. Social media is a fantastic tool to see what quirky foods are emerging.
What's your ultimate career dream? I want to work towards changing eating habits in the western world – alongside being a boxing champion representing Musclefood, of course.