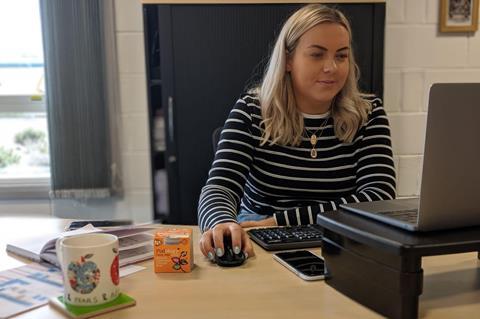 Name: Lowri Allen
Age: 21
Job title: Account executive
Company & location: Pudology, South Wales
Education: BSC management (specialising in marketing) at the University of Manchester
Why did you decide to go for a career in food? I always wanted to work in a fast-paced and exciting industry. At university one of my courses was on retail marketing. I was surprised at how much hard work, extensive planning and implementation is involved in launching a product into a supermarket. I never imagined that six months later I'd have first-hand experience working alongside successful entrepreneurs. Pudology approached me and as soon as I met the people and saw the passion for what they do, I knew the food sector was for me.
Explain your job to us in a sentence (or two): My role includes a bit of everything, which is ideal as I want to be exposed to all sides of business. I've been involved in marketing, manufacturing, new business development, and product development. Although it is extremely busy, I love it!
What does a typical day look like for you? A lot of people say 'no two days are the same' but they really are not! One day I could be traveling to Newcastle or Leeds for meetings, the next I could be in the office making social media content and chatting to potential brand influencers, or analysing our sales reports from retailers. Pudology is a small business, but we accomplish so much in a week.
Tell us about how you went about applying for your job. I began applying for jobs during my university exams. I had a few interviews, but I didn't get that good feeling I was hoping to find. Then Gareth Hobbs, MD at Visionary Group, contacted me and said he and Pudology founder Lucy [Wager] were looking to hire someone to join the team. We had a very informal chat about what I was looking for, what my skills were etc, and then I received an email to come in for a meeting in the office. With that, I was asked to do a presentation to describe how I would execute taking a new food product to the market. The team really put me at ease. I had that great feeling and knew it was somewhere I would enjoy working and would totally love it. After that Gareth and Lucy rang me and offered me the job. I was over the moon, and that day I found out I got a first in my degree. A good day all round!
"The tools we pick up at university and our second nature knowledge of social media are brilliant for organisations"
What's the best part about working for a food company? One great thing about working for Pudology is that there is always something happening, whether it's a new trend or a new customer, especially in the free-from market – it's growing so fast. But the best thing is the free puddings of course!
And what's the biggest misconception people have about working in food & drink? It is so varied, fast-paced and intense but I don't think people realise this. I am still only learning about all the many different roles there are in the food and drink industry and the wealth of opportunity there is. I was shocked at how little I had heard or seen about it considering it is the UK's largest manufacturing industry. My family have all commented how they never knew there was so much going on behind the scenes of food brands.
What advice would you give to other young people looking to get into the industry? Be open to every opportunity you get. When you are young it is easy to feel intimidated because of your age or lack of experience but the tools we pick up at university and our second nature knowledge of social media are actually brilliant for organisations. As long as you work hard, gain experience and throw yourself into every situation, then eventually you will gain a lot more confidence.
What's your ultimate career dream? The way we work at Pudology is great. We all have amazing relationships with Lucy, which generates a contagious, positive energy. This creates a less stressful atmosphere and makes it a really enjoyable place to work. I would love to start and run my own business in this way one day.