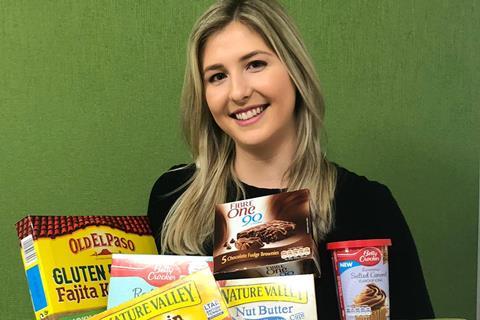 Name: Lucy Crump
Age: 23
Job title: Key account manager
Company & location: General Mills, Uxbridge
Education: I was actually in the first ever year group of Ruislip High School, which opened in 2006. I stayed on to do my A-levels, studying Psychology, Sociology and English Language. I always knew I would've loved the uni lifestyle, but I was desperate to get out into the world of work so applied to a position on reception at General Mills. And subsequently landed my first job!
Why did you decide to go for a career in food? If I'm being honest, I was never set on having a career in food. I suppose I just fell into it, but now I couldn't imagine anything else! The General Mills portfolio plays a huge role in that – it's really enjoyable to work on brands that I knew and loved before joining the business.
Explain your job to us in a sentence (or two): As a key account manager, I'm responsible for managing a select few customers within the discounter channel, managing their P&Ls, focusing on driving volume, revenue and profit whilst also growing market share of our brands. I work with my customers to set full-year plans and strategies, whilst working internally on projects such as future pack strategy. I also monitor the demand plan to ensure accurate factory forecast and then report back to the business on any commercial changes.
What does a typical day look like for you? I love the fact that within my team everything moves at a fast pace, and there's always something new going on. A typical day normally consists of tracking my sales to ensure I'm on plan to hit my forecast, looking at my forecast to go, exploring any potential opportunities and chasing down my buyers! I'm also out of the office visiting customers and stores several times a month – it's the best way to understand what they need and ensure we're delivering it, as well as keeping me up to speed with what's going on in the market.
Tell us about how you went about applying for your job. I was asked to prepare and present a presentation, take part in a roleplay negotiation and then had a formal interview. I was dreading the negotiation roleplay as I totally didn't know what to expect, but I ended up really enjoying it! I did get a couple of tough questions around why I should get the role without any previous experience as an account manager. But I reassured them of my hard-working nature and tenacity, which I had demonstrated by working my way up from reception.
"Having to begin at the bottom and work your way up equips you with the basics, and gives you the opportunity to learn from others around you"
What's the best part about working for a food company? The food! I'm sure everyone says that, but we have some genuinely amazing brands at General Mills and it's definitely a perk of the job. A Häagen-Dazs mini cup never fails to get me through the afternoon. The brands are also great at creating a buzz internally when there's a launch – from a mini fiesta with fajitas all round for Old El Paso, to Nature Valley cereal bar taste tests!
The culture and people at General Mills are also a big part of why I enjoy working here so much. I have made some of my best friends here and it's a nice feeling being able to come to work and see them every day!
And what's the biggest misconception people have about working in food & drink? That I drive around in a van dropping food off to shops…
In all seriousness, I think people have misconceptions around the discounter channel – they look at the scale of the grocers and can often overlook the discounters when this is the channel driving significant growth year on year. People are changing the way they are shopping and are willing to do smaller and more frequent shops in discounter stores if it offers them value.
What advice would you give to other young people looking to get into the food & drink industry? It doesn't matter where you start, you can still succeed. And actually, having to begin at the bottom and work your way up equips you with the basics, and gives you the opportunity to learn from others around you.
Starting at General Mills on reception allowed me to get to know a lot of people in a lot of different departments. It took me three internal jumps before becoming an account manager, but it meant I had a head start as I already knew the brands, people and systems inside out.
I think people shouldn't be afraid to apply for roles because they haven't got experience or qualifications – they aren't the be all and end all. Your attitude and mindset towards doing a good job and wanting to develop sets you apart and is what ultimately drives your progression.
What's your ultimate career dream? In the short term I would like to gain experience in other channels within the sales department at General Mills to continue to build my skill set and confidence, before potentially making a move into the grocery side of our business.
In terms of ultimate career dream, to be completely honest I'm still figuring that out, although I wouldn't mind being the next Ben Pearman [VP managing director Northern Europe, General Mills]!