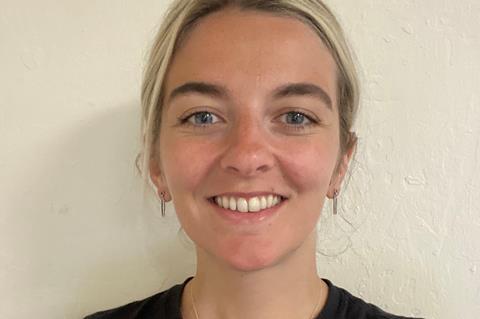 Name: Maddie Williams
Age: 25
Job title: Events & marketing manager
Company and location: Aber Falls Distillery, Abergwyngregyn North Wales
Education: Events Management, University of Chester
Why did you decide to go for a career in food & drink? After graduating from university with a degree in events management, I returned home to North Wales and struggled to find a role in that industry. I decided to go travelling for a while and then this job opened up, just four miles from my house. I have always loved Aber Falls' products and was keen to gain experience in a job that felt like a great fit for me.
Explain your job to us in a sentence (or two): My role involves managing all external and internal events, creating content for social media platforms and co-ordinating new product launches. I am an acting ambassador for Aber Falls Distillery and thrive off networking and building strong relationships with the public and trade.
What does a typical day look like for you? My typical day varies so much. I could be on the road working at an event, or in the office creating social content or managing product launches. Every day is different and as someone who loves being active and spending time outdoors, I like that I'm not based in an office 24/7.
Tell us how you went about applying for your job. I spotted the post on a job site and immediately applied with a CV and covering letter. I was then invited for an interview with the operations manager and MD. The questions were standard but personal as well, which gave me the opportunity to let my personality shine through. I had a second, more casual interview, then was delighted to be offered the job as events co-ordinator and ambassador at Aber Falls Distillery.
"As someone who loves spending time outdoors, I like that I'm not based in an office 24/7"
What's the best part about working for a food & drink company? The people I meet. In my personal and work life, I'm passionate about my local area and the community we serve – I love that my role means I get to meet other Welsh businesses who work together to promote food and drink. The relationships I've forged and friends I've made at events make the job even more enjoyable. And of course, I love gin, which is always a small benefit!
And what's the biggest misconception people have about working in food & drink? Specifically in terms of Aber Falls, the biggest misconception people have is that we only sell gin. There is so much more the business has to offer, including our recently launched inaugural single malt whiskey. There are also collaborations with other Welsh businesses, new spirit launches, farmers markets, events internally and externally, whiskey cask clubs… the list continues!
In terms of the spirits industry in general, there is a lot of time, precision and love that goes into the finished product you see on the supermarket shelf, and very few people appreciate that.
What advice would you give to other young people looking to get into the food & drink industry? When I finished university, I didn't want to box myself into a specific area of the events industry. So when I came across the job at Aber Falls, I welcomed it with open arms. I think that openness to take on an events role in any field was crucial for me and my career. I've learnt so much more than the job role I was hired for – the relationships I've made, people I've met and the experience I've gained with Aber Falls have been so valuable.
I have been here almost a year and a half and have taken on responsibilities including being a delivery driver, retail assistant, whiskey distiller and events manager. The opportunities are endless in this industry, and I would advise young people to be open to learning about the industry as a whole and explore all aspects of it, however it presents itself.
What's your ultimate career dream? I have loved events ever since my school days and still do. The thrill you get from a successful event, when all the hard work prior has paid off, is unbeatable. To organise international events and travel all over the world would be something very special indeed.