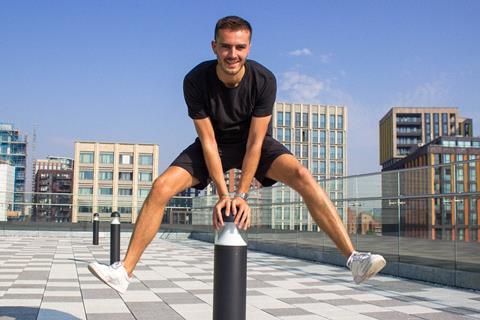 Name: Max Coleman
Age: 25
Job title: Account manager
Company & location: Wheyhey, London
Education: BSc (Hons) Marine Sports Science at Plymouth University
Why did you decide to go for a career in food? My dad has always been in the food industry and has run his own company since I was 12 years old, so coming out of university into the business world, food is all I've ever known. I have been lucky enough to learn quite a lot about the industry as I was growing up and, in the kitchen, I like to think my middle name is Ramsay, so food just made sense! When I finished university, I took a year out before starting a food truck selling my dad's pies and sausage rolls at festivals and events across the UK. It was hard graft but great fun. However, after a year of working for your dad, you get fed up of arguing over dinner, so I called it quits and pursued my own journey.
Explain your job to us in a sentence (or two): My main responsibility is bringing on new business and managing existing accounts. To put it in black and white, I approach buyers with our outrageous products, nag them until they agree to meet me and then convince them to give them a go, although the products sell themselves! Once on board, I work with them to drive sales and achieve world domination.
What does a typical day look like for you? It always starts by rolling out of bed as late as humanly possible, knocking back a quadruple espresso and wolfing down some eggs on toast! I like to keep things at work spontaneous and light-hearted and I'm lucky that Wheyhey allows me to do that. We stand by the line 'live outrageously well' and so everything I do I try to make a little bit wacky and a bit more memorable – whether it's going to meetings in fancy dress, serenading buyers in song over the phone or one of my favourites, sending samples in a jack-in-the-box. Although most of my time is spent out meeting buyers or on calls, I like to get involved elsewhere if there is something going on, whether it be brainstorming ideas with the marketing team, attending events or beating my colleagues at table tennis.
Tell us about how you went about applying for your job. After a couple of days scrolling through the LinkedIn jobs board, I stumbled upon Wheyhey and thought, why not? I'd never heard of them before, but from what I saw on their website it looked like a cool company with great ideas! They got back to me the same day and I met with my now-colleague, Laura, for a very informal interview in the local Carluccio's. She invited me back the next week to present to the team what I would get up to in my first month if I were to get the role. Luckily, they liked me and I got the job!
What's the best part about working for a food company? You can't ignore the perks of free food, although the novelty normally wears off after a few days and you just become sick of whatever the product is that you make – maybe I just eat too much! I think the best thing is being able to sell a tangible product that so many people are passionate about. And to walk into a shop, see it on the shelf and know it's there because you got it there is an amazing feeling!
"Be creative in your application, think outside the box and dare to be different. That's what gets you noticed"
And what's the biggest misconception people have about working in food & drink? That you can just sell a product into anywhere at anytime and it's an easy thing to do. So many times, friends say to me, "Why don't you sell your ice cream to X?" The reality is, I would if I could, and had the financial power to do so. Buyers are often extremely busy and can be an absolute nightmare to get hold of, and so just getting the opportunity to share your product with them is often the first hurdle. The thing that surprised me most when I started, and still shocks me today, is the amount of investment required to even be considered over your competition – which makes it incredibly difficult for small businesses! You can't simply develop a product, rock up at a high street retailer and expect them to take it, even if it is a fantastic product. The amount of cash required to pay listing fees and invest in promotional plans blows my mind, and is something that those outside the industry are totally unaware of.
What advice would you give to other young people looking to get into the food & drink industry? Don't do it. It's blood, sweat and tears, the rewards are few and far between and there are much easier ways to make money, but… I'm still here and I love it. In all seriousness. I would never discourage anyone from joining the food & drink industry. It's got to be one of the most rewarding and exciting industries when the wins come around and things are going well, but I think it's important to understand that it's often slow-paced and incredibly frustrating! If you're still sold on the idea, be creative in your application, think outside the box and dare to be different because that's what gets you noticed and that's what sells.
What's your ultimate career dream? My ultimate career dream would probably be to be something like an F1 driver but, unfortunately, I think that opportunity sailed about 15 years ago. One day I will start my own company, although I'm not sure I would want it to be in food and drink, only because I've seen how tough it is. I'm constantly brainstorming ideas for the next big thing so who knows… maybe you'll hear of me again in years to come!