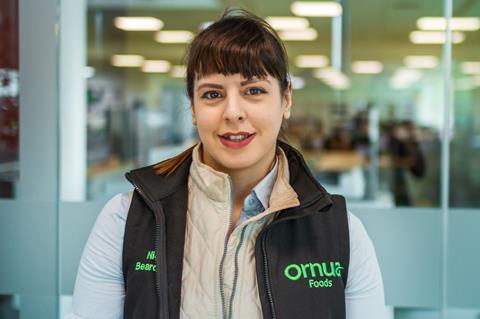 Name: Nicola Beardmore
Age: 25
Job title: Cheese grader
Company & location: Ornua Foods UK, Leek, Staffordshire
Education: University of Derby, Marketing and Advertising Management
Why did you decide to go for a career in food? Perhaps reflecting my love of food & drink, I entered the hospitality industry at an early age with my first job being at a local restaurant, waiting on tables. During my sixth form and university days, I then moved into roles for food companies such as Wrights Pies and British Home Stores Foods. After completing my degree, and still a little undecided on where to go next, I was offered a role at Brown & Green Farm Shop in Trentham. I went on to build a good relationship with our cheese wholesalers, who then suggested the Young Cheesemonger of the Year Awards, which I was lucky enough to win in 2018. This was the start of my career in the dairy industry!
Explain your job to us in a sentence (or two)? Ornua Foods is the largest supplier of own brand cheddar in the UK and owns Pilgrims Choice, the number two cheddar brand. My role is to sample the cheese to grade it – looking at colour, taste and functionality to ensure it is of the highest quality to meet the specification of our customers.
What does a typical day look like for you? Typically, I work on a nine-to-five basis, but every week is different. However, one thing for sure is that every day is full of sampling cheese of all varieties. On any given day, we can sample around 200 cheeses! We need to ensure that every pallet of cheese is sampled before going into production to ensure that it is of the right profile, confirming that the cheese is matured to the right specification and labelled correctly for our customers, which include many of the UK's leading retailers.
"My career dream would be to help raise women's profiles and aspirations across the dairy industry"
Tell us about how you went about applying for your job? I'm a true believer that everything happens for a reason. Following on from winning the Young Cheesemonger Award in 2018, I knew that my passion for cheese and the dairy industry had grown. As such, one evening I was looking online at career opportunities in the industry, when I stumbled across the role of trainee cheese grader at Ornua, and I knew it was meant to be!
What is the best part about working for a food company? After previously being involved in the retail side of the industry, it has been fascinating to understand more about the dairy industry from the other side. Ornua exports dairy products across the globe and owns leading brands such as Kerrygold and Pilgrims Choice. Being part of the team here at Ornua is giving me a fantastic insight into the people and processes that are needed to be a world-class organisation in an ever-changing market environment.  
And what's the biggest misconception people have about working in food & drink? People always ask if I get mountains of free cheese. The truth is no, I don't. Alongside this, people hear that I'm a cheese grader and think that I 'just' eat cheese, which again isn't the case! Indeed, it's great to be able to explain the importance of the role and the technical side of the job.
What advice would you give to other young people looking to get into the food & drink industry? Do it! There are a huge variety of roles in the industry and as ultimately, we are always going to need to eat, there is a fair chance of having a long-term career in it. Working at Ornua has made me really appreciate where my food comes from and if you have a passion for food & drink then it's a fantastic industry to be part of. As well as this, it's an industry that can take you all over the world. For example, Ornua exports to over 110 countries and has production facilities in China, Germany, Ireland, Nigeria, Saudi Arabia, Spain, the UK and the US, and has sales and marketing teams working in many international markets.
What's your ultimate career dream? I think my career dream would be to help raise women's profiles and aspirations across the dairy industry. When attending the major UK and international cheese awards, it would be amazing to see more women taking part in the judging, especially as cheese grading has traditionally been a male-dominated environment.