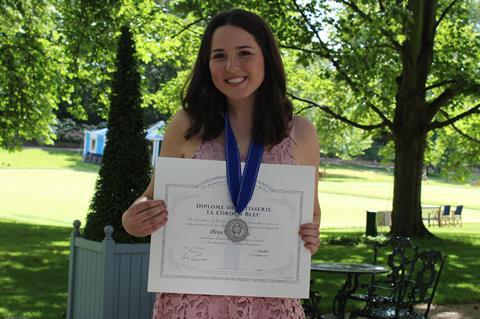 Name: Olivia Wilton
Age: 20
Job title: Product developer
Company & location: Bakedin, Basingstoke
Education: Le Cordon Bleu Culinary School, London – Diplôme de Pâtisserie
Why did you decide to go for a career in food? From a very young age I have been a keen baker. I was always helping my mum in the kitchen and in my spare time often made birthday, celebration and even wedding cakes (be they novelty or more sophisticated) for friends and family. This encouraged me to pursue a professional diploma (PME) in sugarcraft, sugar flowers and royal icing at the age of 14, for which I obtained a Master's certificate. I then studied the Diplôme de Pâtisserie at the renowned Le Cordon Bleu in London, where I got to work with some of the finest patisserie chefs in the business, making everything from chocolate sculptures to croquembouche.
Explain your job to us in a sentence (or two): My role focuses on developing the recipes that go out in the Bakedin Baking and Bread club subscriptions. However, it's not as simple as just creating a recipe and having it packaged up. Bakedin recipes aren't the classic Victoria Sponge-type bakes; they must always have a unique twist, so making sure it's different each month can be quite a challenge. Some take a few days to get right and some a few weeks, but after every recipe goes out, I feel a real sense of accomplishment.
What does a typical day look like for you? Each day is different, and, unlike most jobs, I'm not sat at a computer all day. I spend the majority of my time in the kitchen, whether it be developing and testing new recipes for our Baking and Bread Club/Bakedin retail products, baking products for shows like QVC, or filming new baking videos for YouTube.
"After every recipe goes out, I feel a real sense of accomplishment"
Tell us about how you went about applying for your job. After finishing at Le Cordon Bleu, I worked at a local Michelin-starred restaurant, but I missed being able to use my creative side. After ploughing through endless job vacancies, I came across a recipe developer job, which I thought would suit me perfectly. I applied on a complete whim thinking there was no way that I would get it as I didn't have much experience in this type of role, but I had a phone interview the next day. For the face-to-face I was given the task of baking something along the lines of a Baking Club box. It had to include the staple ingredients of eggs, butter, milk and only one fresh ingredient plus a unique element. I went with an apple and cinnamon cake which seemed to go down pretty well! Bakedin is such an enjoyable company to work for and that definitely came across during the interviewing process.
What's the best part about working for a food company? Without a doubt, the freedom. I have always loved being creative when it comes to food and baking, and being in this job allows me to do that. Every month, when the subscription boxes go out, I love seeing everyone's reactions. To some people these subscriptions are the best part of their month. Also, a lot of the people in our baking clubs aren't always the most experienced of bakers, so I feel the recipes we create help them to improve their skills and encourage them to step out of their comfort zones.
And what's the biggest misconception people have about working in food & drink? I think when it comes to working in food, people don't realise the amount of time and work that goes into products – the recipe is just the start. A lot of people don't really look for a job within food because they can't cook or bake but whatever your skill set is, there is always a job. You do need to be a foodie though, because in our office that is what 90% of the chat is about – the other 10% is what TV series are worth watching!
What advice would you give to other young people looking to get into the food & drink industry? Go for it! There are so many different routes into the food industry, and, depending on what sector interests you, you don't necessarily have to have a degree. I knew for quite a while throughout school that uni was never going to be for me; I wanted to have a more hands-on approach to baking rather than simply studying nutrition. The course that I did was absolutely brilliant and I would do it all over again if I could.
What's your ultimate career dream? To see my own recipe book on the shelves of Waterstones one day! I want it to be bursting with mouth-watering bakes and cakes, educating bakers who aren't as confident or experienced about why some things don't work, what they may be doing wrong and how they can fix it. I'd love to encourage more people, young and old, to get into baking.