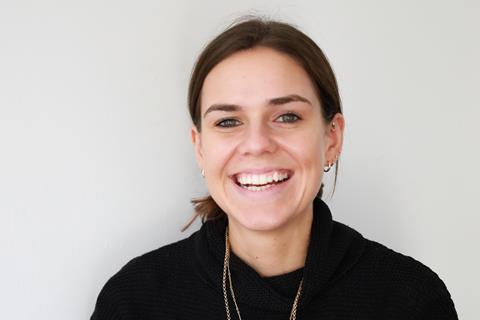 Name: Rosie Butler
Age: 24
Job title: Head of marketing
Company & location: Willicroft, Amsterdam
Education: Newcastle University, Business Management
Why did you decide to go for a career in food? With the world's food system being responsible for roughly a quarter of the planet-warming greenhouse gases generated each year, I wanted to combine my passion for the environment and food to help promote sustainable living.
Explain your job to us in a sentence (or two): Every day is different, but broadly speaking I am responsible for sharing the Willicroft story and mission, building the brand, looking after our community and making sure that we reach as many people as possible with our plant-based cheese.
What does a typical day look like for you? Again, no two days are the same. It can involve anything from biking around Amsterdam delivering samples to creating marketing strategies and launch plans for major retailers. One of the amazing things about working in a startup, and particularly Willicroft, is the variety. It's certainly not a full-time desk job!
Tell us about how you went about applying for your job. After quitting my job in London and deciding to move to Amsterdam I started looking around for sustainable startups in the food & drink industry. I was incredibly fortunate to come across Willicroft at just the right time when they were looking to hire a marketeer. The most important thing was making sure my values were aligned with Willicroft's and vice versa, and of course a passion for the cheese!
"It's pretty cool working in a company where Mother Nature is the CEO"
What's the best part about working for a food company? Obviously the endless supply of plant-based cheese, but also knowing that what we are doing is making a real impact and helping to change our current food systems for the better. It's pretty cool working in a company where Mother Nature is the CEO.
And what's the biggest misconception people have about working in food & drink? I think quite often people underestimate the work that is required or the competitiveness of the industry. Most people only see the end product on the shelf in the supermarket and don't consider the blood, sweat and tears it took to get it there.
What advice would you give to other young people looking to get into the food & drink industry? Decide whether you want to join an established brand or startup as the experiences are very different. For me it's so important that you believe in the values and the mission of the brand so find something you're passionate about!
What's your ultimate career dream? Right now, I am just loving being part of such an amazing journey with the Willicroft team. It would be incredible to see Willicroft become a major player across Europe, succeed in our upcoming launch in the UK and make an even bigger impact with our plant-based cheese. Maybe one day I'd like to start my own fmcg company that focuses on sustainability.