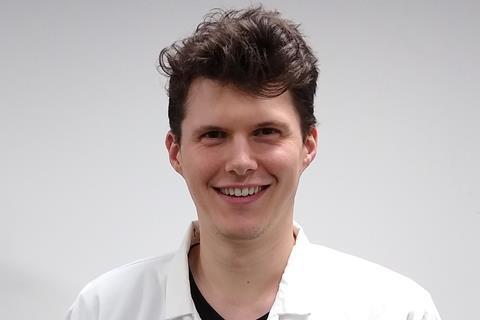 Name: Ryan Williams
Age: 25
Job title: Product scientist
Company & location: Moma Foods, Deptford, south east London
Education: MSc chemistry, Durham University and PhD in organic chemistry, University of Bristol
Why did you decide to go for a career in food? Well for one thing, I really love to cook, eat and talk about great food! But I'd always considered that to be more of a hobby than a career option. But then, towards the end of my PhD research, I realised I had strong scientific training and skills, but I was personally more driven by food and sustainability than industrial chemistry. I decided that I wanted to use my scientific experience and mindset to be part of delivering the next generation of environmentally friendly, ethical and healthy food.
Explain your job to us in a sentence (or two): My role is to explore and understand the science of oats, the different processes we can use to turn them into exceptional oat drinks and how we can change the recipe to create the best taste and performance for our oat milk.
What does a typical day look like for you? It varies a lot. Some days it might be meeting with one of our partners to work out new technologies or processes that allow us to get the most out of our wholegrain oats. Other days I'll be cooking up new oat milk samples in the kitchen with different recipes, then I'll test them out to see what sort of taste and mouthfeel characteristics we get. I'll also look at how the milk performs when added to different hot drinks, or when we foam it up. I always work closely with the other members of the Moma team to make sure our oat milk lives up to the high standards we set for ourselves and best reflects what our fans want, and expect, from a Moma oat milk.
"When I saw the job advert, I was actually quite shocked at how ideal the role sounded"
Tell us about how you went about applying for your job. When I saw the job advert, I was actually quite shocked at how ideal the role sounded for what I wanted to do, so it was an easy choice to apply. In the first stage I had to write a detailed application form, including my reasons for applying, what attracted me to the position and to Moma and how I was qualified to perform the role. After that I was invited to an interview, prior to which I was asked to prepare a 20-minute presentation covering several points around a business analysis, NPD ideas and technical aspects of oat milk. I'd never made oat milk before, so in order to be able to talk about the technical side of oat milk I had to begin reading the scientific literature around oat drinks voraciously. That was especially tricky given how much there was to learn very quickly! Obviously, the work paid off, as shortly after the interview I was offered the position.
What's the best part about working for a food company? Amazing breakfasts are always available! That is a great perk, but actually the best part is being able to devote my working life to something that I have a deep interest in and joy for. What better feeling is there in your working life than to go into work each morning knowing you are doing something you really care about and that gives you satisfaction?
And what's the biggest misconception people have about working in food & drink? I think in general working in food & drink is nice because you can describe your job and it's instantly understandable and relatable to people – everyone is intimately familiar with food. But perhaps the biggest misconception people have is underestimating how many factors go into making great food products and how many difficulties there can be along the road to market.
What advice would you give to other young people looking to get into the food & drink industry? I think what I've taken away from my experience is not to be put off if your background, education or professional experience thus far doesn't align with what's usually seen in food & drink. I think if you can demonstrate you're willing to work hard, you have an aptitude to learn and you can thrive as part of a team, your interest in working in food & drink can come to fruition.
What's your ultimate career dream? I believe people should have the flexibility to choose the food & drink that suits them without having to compromise on taste or quality. Therefore, my career dream is clear – I want to be at the forefront of designing and delivering fantastic oat-based milks that taste every bit as good as the dairy milk we all know and enjoy, whether that's on cereals, as a standalone drink or as beautifully foamed latte art.